Directions
1. Preheat oven to 350 degrees F and grease a standard-sized muffin pan.
2. Combine almond flour, cinnamon, baking soda and salt in a large bowl. Add carrot, apple, coconut and raisins and combine well.
3. In a separate bowl, whisk eggs, honey, oil and vanilla extract together.
4. Pour the wet mixture over the dry ingredients and mix very well. The batter will be very thick.
5. Spoon the batter out into muffin pan and place on upper or middle rack of your oven for 40-50 minutes.
6. When a toothpick inserted into the top of a muffin comes out clean, the muffins are done.
7. Cool muffins in the pan for 8-10 minutes and then remove to a rack to finish cooling.
**If you are looking for variety, sub out currants or chopped dates for the raisins. You can also add a little orange zest to give them a bit more citrus flavor.
[ingredients]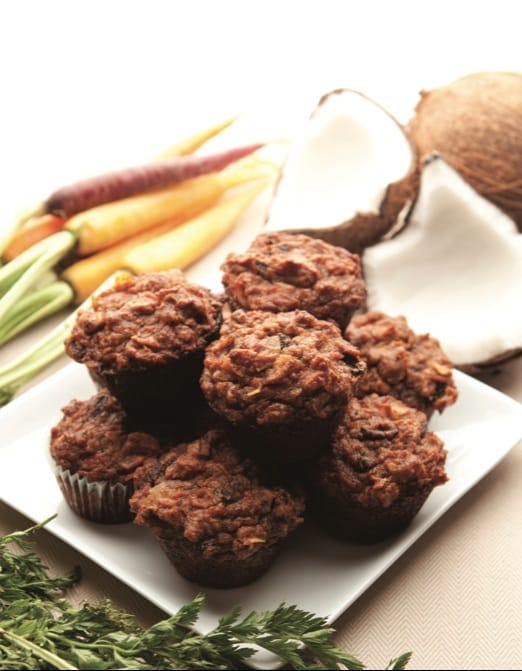 Ingredients
2 1/2 cups almond flour
1 tablespoon cinnamon
2 teaspoons baking soda
1/2 teaspoon salt
2 cups carrots, peeled and grated
1 large apple, peeled, cored and grated
1 cup shredded coconut 1 cup raisins
3 large eggs 2 tablespoons honey (optional)
1/2 cup coconut or olive oil
1 teaspoon vanilla