A lamb stew that is easy to make, got a warming and comforting spiciness to it, and flavors that'll take you on a trip to Northern Africa… Check out http:​/​/​strictlypaleoish.com/​2012/​12/​02/​cauliflower-tabbouleh for the cauliflower tabbouleh recipe that goes with it!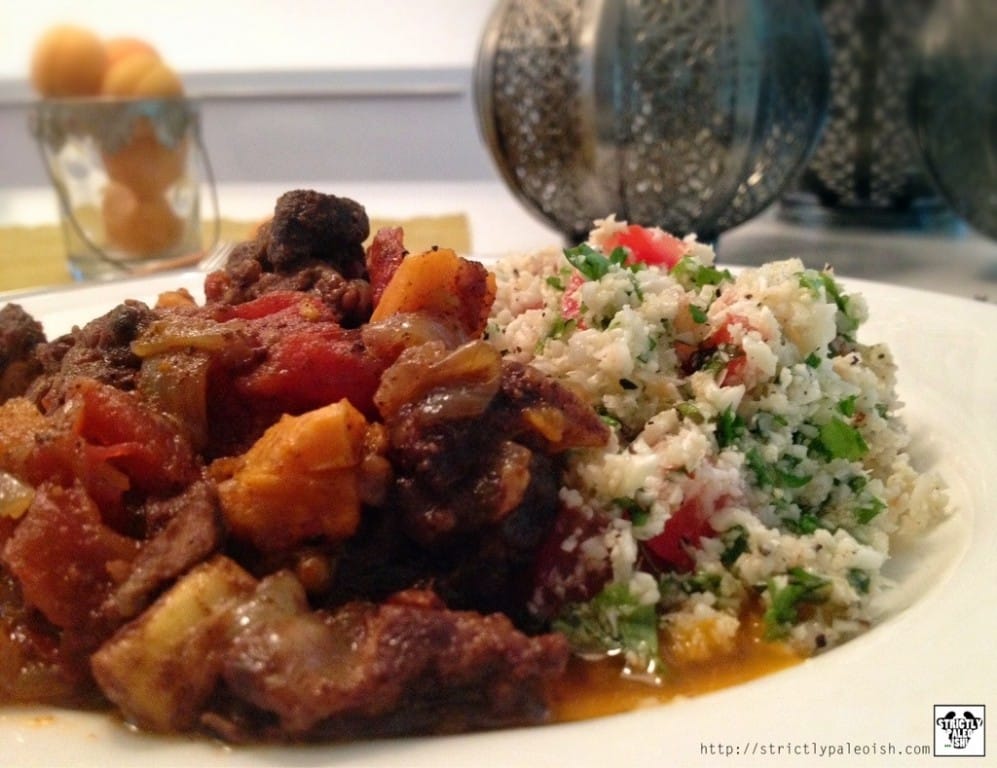 Ingredients
2 lb (900g) Lamb (cut/s of choice), diced.
4 tbsp ​Ras El Hanout​​ spice blend
2 Sweet Potatoes, peeled and diced.
1 Red Bell Pepper, diced.
1 cup (2.5 dl) Apricots, diced.
1 can crushed Tomatoes.
3 tbsp Clarified Butter or Ghee.
Directions
Put the Ras El Hanout spice blend in a hot, dry, frying pan and roast it for a little while.
Add the lamb and stir/toss so that all pieces are coated evenly in the spices.
Add the clarified butter/ghee and quickly sear the meat.
Put the meat and the rest of the ingredients in a slow-cooker, set it on low for 7-8 hours, then you're done!
Serve it over my ​Cauliflower Tabbouleh​ for a complete meal and experience.