Eggplants:
1. First you will need to slice up the eggplants and lay them all out onto a flat surface and sprinkle salt on them. Wait 10minutes, turn over and repeat. Once you have finished this, rinse and pat dry each eggplant slice.
2. Place 2 tbsp olive oil in a fry pan (low heat) and fry eggplant slices on each side so that they are slightly brown. You may need to keep adding olive oil each time, and sometimes it\'s needed when you turn them over.
3. Place these on a plate ready for the final putting together of the dish once the meat sauce is cooked.
Meat Sauce:
1. Heat 2 tbsp olive oil in a large pot on medium heat. Add garlic and onion and stir occasionally until onions go translucent.
2. Add mince and cook until brown.
3. Add tomatoe paste and stir through. Once all the mince is covered in the paste, add the can of tomatoes, cup of beef stock, mushrooms, and then the italian herbs and chili powder. Stir through.
4. Cook this on low for about 30 minutes and stir occasionally.
5. Pre-heat oven to 180 degrees celcius fan forced.
Final Steps:
1. Get a large oven proof dish ready with spray olive oil.
2. Place eggplant slices on the bottom of the oven proof dish. Add 50% of the mince sauce on top and spread out evenly.
3. Place another layer of eggplant slices on top of the meat sauce and again, add the rest of the mince sauce and spread out evenly.
4. Sprinkle grated cheese on top and place in the oven for about 30minutes or until the cheese has gone golden brown.
Look cool a little in the dish, cut up and serve!
[ingredients]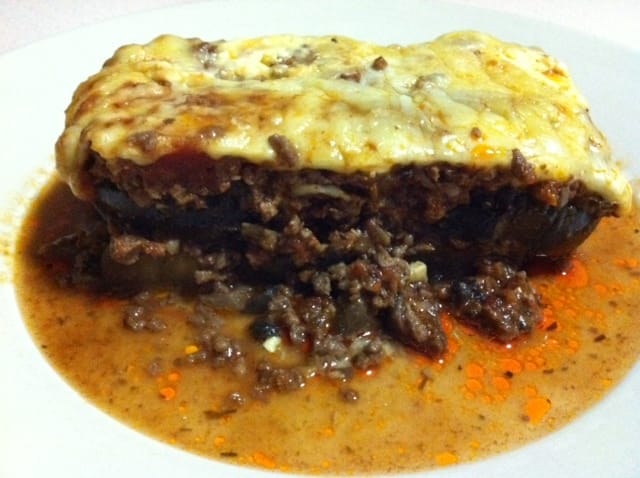 Ingredients
4 small eggplants (or 2 large) cut into 1cm slices
Salt - for eggplants
500-600g beef or lamb mince
1 large onion chopped & 4 garlic cloves chopped
2 cups chopped mushrooms (2cm x 2cm pieces)
1 can diced tomatoes & 2 tbsp tomato paste
1 cup beef stock
2 heaped tsp italian herbs & 1/2 heaped tsp chili powder
LOTS of Olive Oil
300g grated cheese to go on top (optional)