New Mexican Green Chile Stew
Green Chile Stew is, as I'm sure any fellow New Mexican would tell you, an autumn flavor.  When I smell it it reminds me of styrofoam bowls heaping with potatoes, pork and chile carefully maneuvered into one's mouth with a plastic spoon while the many balloons of the Albuquerque Balloon Fiesta light up overhead at their nightly glowdeo. It's the perfect thing to eat or reheat as you try not to freeze on a crisp fall night.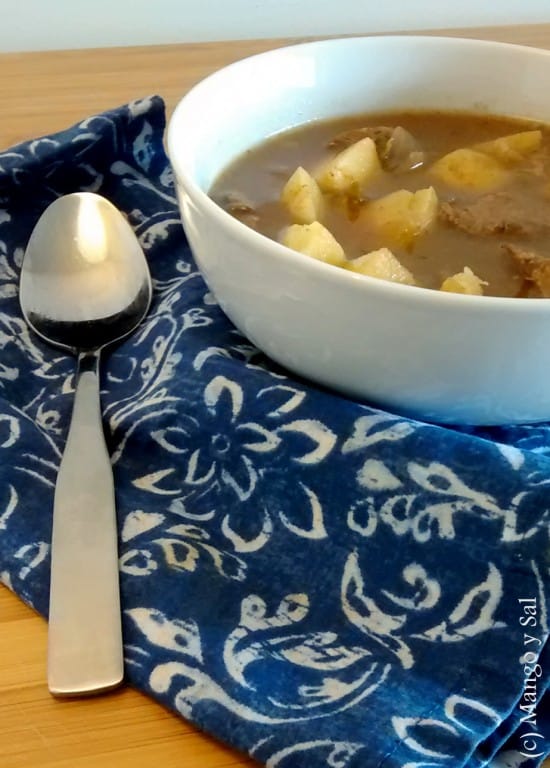 Ingredients
1 1/2 lbs. stew-cut pork or beef
12 oz. roasted Hatch green chiles, chopped
1 medium yellow onion, diced
3 cloves garlic, minced
32 oz. beef stock
8 yukon potatoes, cubed (can sub sweet potatoes if desired)
1 1/2 tsp. cumin
1/2 tsp. oregano
sea salt, black pepper & garlic salt to taste
Directions
Season the pork or beef with salt, garlic salt and pepper. Saute the meat in a heavy drizzle of olive oil over medium heat until it begins to brown; about a minute on each side for beef and slightly longer for pork.
Drain the meat of extra oil and put it in the crock pot. Add all other ingredients, making sure that there is liquid covering everything--top it off with extra broth or water if necessary.
Cook the stew on high for 4 hours, until the meat is tender and the potatoes are cooked through.