No Bake Chocolate Cherry Brownies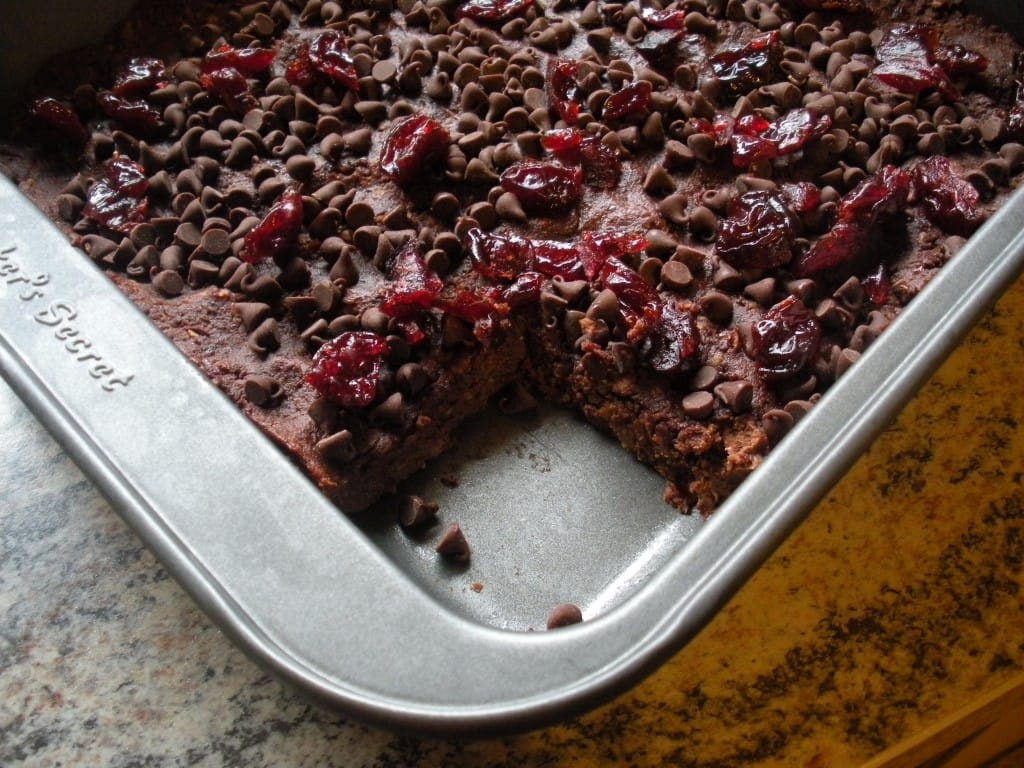 Ingredients
1 cup unsweetened coconut flakes
Mini chocolate chips + ¼ cup chopped dried cherries for top
1/2 cup unsweetened cocoa powder
¼ tsp cinnamon
pinch of salt
1 tsp vanilla
1 tsp almond extract
1 cup Sunbutter
1-2 Tbsp honey (if using unsweetened Sunbutter… Feel free to omit if your Sunbutter is sweetened)
¼ cup raisins + ¼ cup dried cherries, soaked 5-10 min in hot water. Do not drain — you will use soaking water (approx. 1/3 cup)
Up to 1 Tbsp additional liquid to help with blending (I used unsweetened almond milk)
Directions
Begin by covering raisins and dried cherries with hot water. Use just enough hot water to cover the dried fruit. Let soak for 5-10 minutes and DON'T DRAIN… You'll use the soaking water (approx. 1/3 cup) in an upcoming step! Place coconut in food processor. Process on high until very finely ground. Add the remaining dry ingredients (cocoa, cinnamon, and salt) and process until combined.
Now add the wet ingredients: Vanilla and almond extracts, Sunbutter, honey if desired, and raisins and cherries + soaking water. Process on high until a large mass is formed. If dough is crumbly, you may need to add approximately 1 Tbsp additional liquid as noted above.
Turn dough into a 7 ¾ x 7 ¾ square pan or a loaf pan. Press dough evenly into pan. Sprinkle mini chocolate chips and chopped dried cherries on top and press them lightly into the dough. Chill, then cut into squares. Serve cold or at room temp (I like them cold)!