I thought I had to give up pot roast gravy when I gave up wheat flour and gluten and corn starch. Then I discovered that arrowroot and mannioc (tapioca) are not grains and, although starchy, require only a small amount to thicken the meat juices/broth from a pot roast. Wheat flour requires about 2 Tbsp to thicken 1 cup, but arrowroot takes only about 2 teaspoons.
Measure meat juices from a pot roast. I prefer the juices from a pressure cooked grass fed chuck roast, but a crock pot roast also works well if the meat was seared and browned before adding it to the slow cooker. If you have homemade bone broth/stock made with roasted meaty bones, you can make gravy from this. If necessary, add water or broth to make 2 cups.
If using the optional mushrooms and/or onions & garlic, saute them in coconut oil or fat of choice until tender and beginning to brown. Pour in the beef juices/broth and bring to a boil. Taste and season with salt, pepper, garlic powder, and paprika.
About 10 minutes before serving, bring the liquid to a boil.
While liquid is coming to a boil, stir 2 teaspoons of the arrowroot or tapioca into about 2 Tablespoons of cold water to make a slurry. Use a little more starch if you prefer a thicker gravy, up to about 1 Tbsp for each cup of gravy.
Turn the heat to low and stir in the arrowroot or tapioca slurry. Stir and simmer only briefly, as these thickeners will break down under higher heat or too much stirring and lose their thickening power. For that reason, gravy made with these thickeners does not reheat well, so isn\'t the greatest for leftovers. It would still taste good but would be thinner or even watery.
The pictured gravy is served over pressure cooked chuck pot roast and cauliflower mashers with a side of sauteed greens.
[ingredients]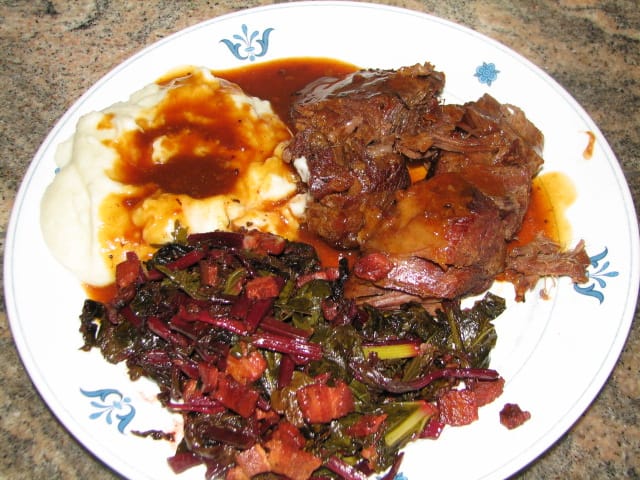 Ingredients
Meat juices from cooking a beef roast; add broth or water to make about 2 cups
salt, pepper, garlic powder
1 to 2 Tablespoons arrowroot powder or mannioc (tapioca) flour.
optional, 1/2 cup sliced mushrooms
optional, 1/2 cup sliced onions
optional, 1 clove of garlic, minced