Nutty Swiss Chard & Roasted Garlic Dip
A creamy, dairy free dip with roasted garlic and swiss chard. Serve it with fresh veggies, plantain or sweet potato chips. So good and could be used in so many other ways!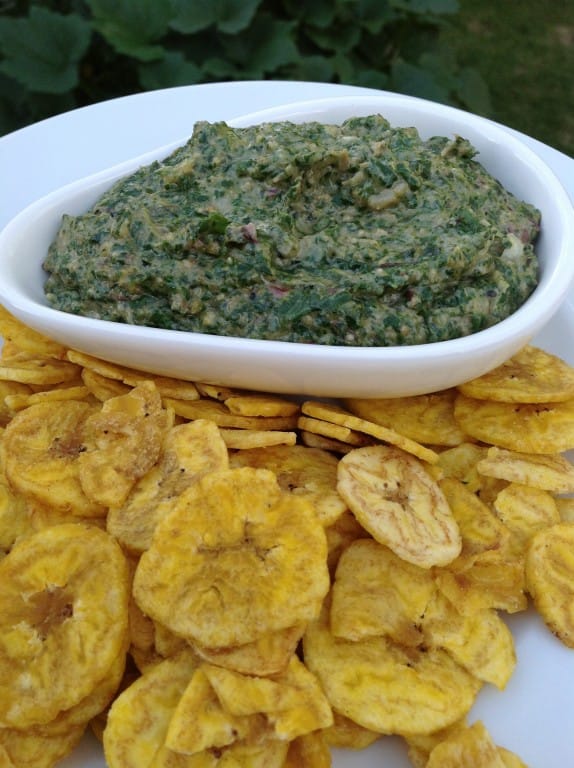 Ingredients
1 medium head garlic
1 bunch swiss chard (red or rainbow)
3 green onions
1 1/4 C roasted, unsalted cashew pieces
2-3 Tbsp hemp oil (may sub olive or sesame but hemp is delicious!)
1 tsp sea salt
1/2 tsp granulated garlic
1/2 tsp black pepper
1/2 tsp cayenne
Directions
Preheat oven to 375 degrees.
Peel any loose outer skin from the garlic and cut off the top quarter to expose all the lovely cloves. Place on a large enough piece of foil to wrap up and around the clove. Pour a tiny bit of olive oil on the exposed closes before wrapping and placing in the oven on a cookie sheet or baking dish. Bake for 45-50 minutes. Remove and let cool.
While your garlic is roasting prep your swiss chard. I used swiss chard from my garden so most of the stems were small and edible. If you are purchasing yours from the market use your best judgement on the stems. If they seem large and fibrous, they probably are and will NOT make a nice addition to your dip! Cut the leaves from the stems in that case. Clean the chard. Grab a large pot and melt the coconut oil in the bottom, then dump in all your chard. Cook over a medium low heat until the chard is completely wilted down. It cooks a lot like spinach and will wilt rather fast. Drain all excess liquid from the pot and set aside.
Grab your food processor and pour your cashew pieces into the bowl. Pulse until you have cashew 'flour' then add the hemp oil and pulse some more. When it is ready it should look like a creamy cashew nut butter. Add all your spices, the green onion pieces and the entire head of roasted garlic. Pulse some more. Finally add the wilted chard. Pulse a few times, you do NOT want chard puree, just broken up enough that you don't get strange, long pieces of it when you are trying to dip.
Serve with fresh veggies, plantain or sweet potato chips or a spoon! It is that good! I like this dip served warm or room temperature. The Hubs prefers it cold. To each their own….It is actually really wonderful in eggs too, sorry vegan friends! But you could put it on pasta! Maybe a zucchini or spaghetti squash pasta? Mmmmmm.