One-Pan Spicy Italian Sausage Paleo Pizza for Two
It was one of those nights when I just did not feel like making anything that took a very long time.
Oh wait… that would be almost every night. Nevertheless, I assure you that this night I really meant it.
Anyway, I did not have much in the fridge, but I did have some eggs and some Italian sausage I had to finish, so I decided to make this very special omelette-y pizza. My husband looked dubious about the whole thing (he's not a huge fan of omelette for dinner) but in the end he volunteered himself in saying it was "very good," which (coming from my husband) was quite a compliment!
This "pizza"  is easy, delicious, heavy-laden with nutritious vegetables, great for breakfast lunch or dinner, and comes non-paleo-lovin' husband approved.
View original recipe here.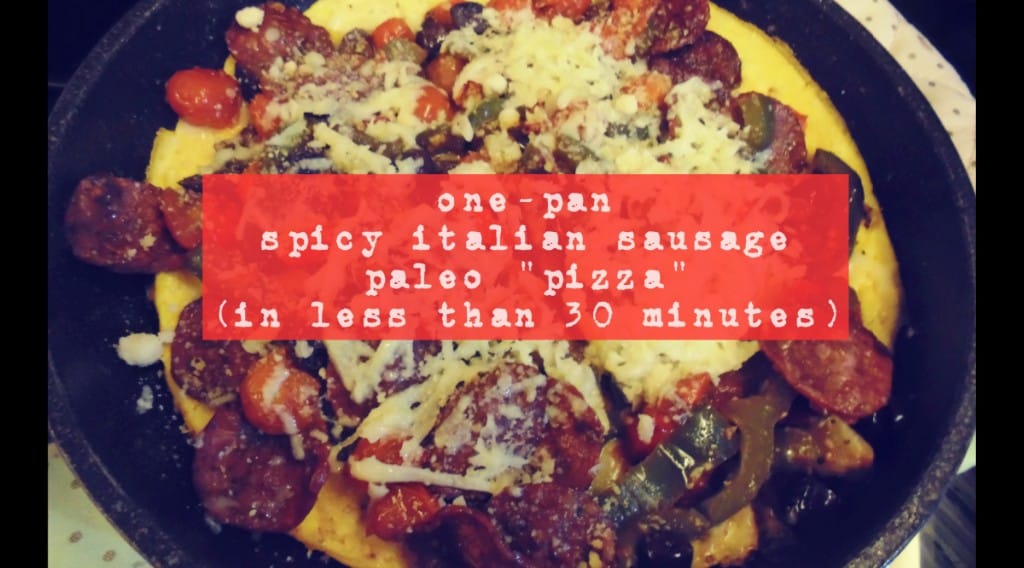 Ingredients
50g spicy italian sausage of choice, thinly sliced
1/2 bell pepper, sliced
1/2 cup cherry tomatoes, halved
20 kalamata olives, sliced
1-2 garlic cloves, crushed
Extra virgin olive oil (EVOO)
6 eggs
Handful of Mozzarella cheese (optional, skip if going dairy free)
Salt
Cracked pepper
Directions
Put one glug of EVOO in a pan on a medium heat.
Put sausage in pan and cook until browned.
Add crushed garlic and stir around for about half a minute–until aromatic.
Add all the vegetables and olives and continue to stir occasionally until the vegetables are cooked through (5-10 minutes).
Once done, remove and set aside.Wipe out pan.
Add a little bit more EVOO and turn to medium-low heat.
In a bowl, whisk eggs with a little salt and cracked pepper.
Pour into pan and place a lid on top, then turn the heat down to low and leave until the eggs are cooked almost to the top.
Put a small handful of the mozzarella cheese on top of the eggs in the pan.
Place sausage and vegetable mix on top of the eggs and then top with a little more mozzarella and Parmesan.
Cook for 1 minute on low with lid on to melt cheese.
Serve with a large side of mixed salad and enjoy it with Tabasco sauce for an extra kick!