A lovely, and much healthier, take on a traditional apple crisp! The topping is like a chewy, brown sugar cookie perfectly complemented by a slew of tart apples.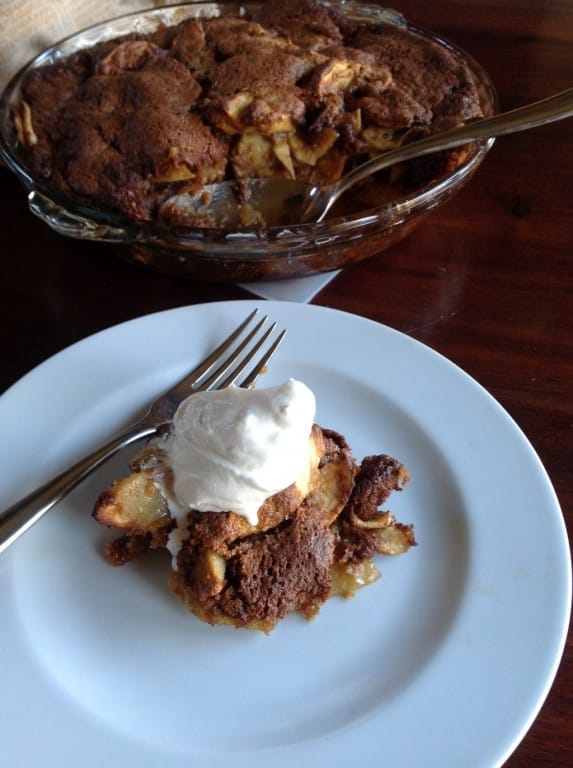 Ingredients
6 C Granny Smith apples, peeled, cored and sliced thin (preferably organic)
1/3 C coconut sugar
2 Tbsp arrowroot starch
1 Tbsp lemon juice
1 tsp cinnamon
For the topping
1 C almond flour
3/4 C coconut sugar
1/4 C arrowroot starch
1 Tbsp vanilla extract
1 tsp baking powder
1 tsp celtic sea salt
2 eggs
4 Tbsp grass fed, organic butter (or 1/3 C coconut oil), melted
Directions
Preheat oven to 350 degrees.
Prep a 9" pie plate by greasing it a tiny bit with some coconut oil.
Mix your sliced apples with coconut sugar, arrowroot, lemon juice and cinnamon. Pour into prepped pie plate.
Using the same bowl you prepped your apples in, prep your topping. Put almond flour, coconut sugar, arrowroot, vanilla, baking powder and sea salt in the bowl. Add eggs and mix until you have a loose dough. Pour over your apples then pour the melted butter or coconut oil over your batter. Bake for 45-50 minutes. Remove from oven and let cool a bit, if you can! The cookie like topping is darker than the original version due to the coconut sugar and tastes a bit like a caramel-y sugar cookie. Perfect topped with a little coconut whipped cream or Vanilla Cheesecake Ice Cream!