This is one of my favorite comfort food paleo delights! Whenever I feel like I need something sweet that will sustain me for a while, I whip this together.
Bread, or should it be called cake? Moderately sweet with the apple and honey, and you can add any nuts you prefer. This is quite a mighty bread, so you may also want to halve the quantities. Just make sure to adjust the cooking time accordingly, because the bread will be finished earlier.
The recipe needs eleven eggs, and that is not a typo!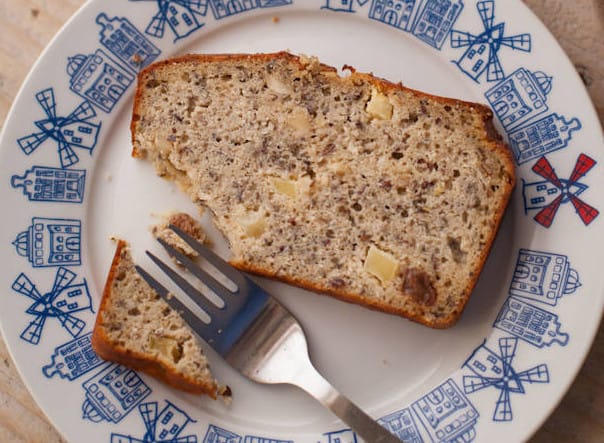 Ingredients
350g almond flour
4 tbsp coconut flour
6 tbsp crushed flaxseed
4 tbsp chia seeds
1 tsp Celtic sea salt
3 tsp baking powder
½ tsp cinnamon
11 eggs
120 ml of coconut oil, liquid
4 tbsp honey
1 large apple, peeled and diced
30g raisins
30 g hazelnuts (or walnuts), coarsely chopped
Directions
Preheat the oven to 340 °F and line a loaf tin (25 cm) with baking paper
Mix almond flour, coconut flour, flaxseed, chia seeds, salt, baking powder and cinnamon in a large mixing bowl.
Add eggs, coconut oil and honey.
Mix with a hand mixer until it is a smooth batter.
Stir in chopped apple, raisins and nuts, mix well
Transfer the batter into the prepared tin and bake for approximately 50 minutes until golden brown or until a toothpick comes out clean.
Cool completely, cut into slices and serve.