Paleo Apple Pie, Gluten-Free-Raw
Apple pie is a classic dessert, perfect for any special occasion or holiday. This paleo and gluten-free version is made from raw ingredients and is dairy-free. Make sure to top it off with some delicious dairy-free Coconut Whipped "Cream," which I have added at the bottom. Splurge like me by adding some dairy-free ice cream topped with dark chocolate. These flavors will dance in your mouth!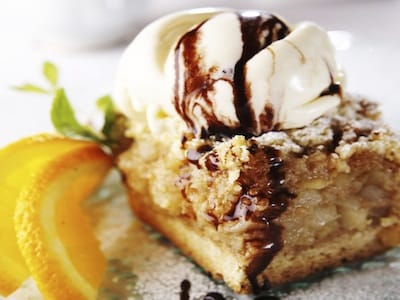 Ingredients
CRUMBLE INGREDIENTS
1 ½ cups pecans (pieces or whole)
2 teaspoons honey
1 ½ tablespoons cinnamon
1 ½ tablespoons carob powder
½ tablespoon date sugar
APPLE PIE SAUCE INGREDIENTS
½ teaspoon clove, ground
2 teaspoons cinnamon
¼ teaspoon allspice
2 teaspoons vanilla extract
½ cup cashews, soaked 3 hrs
1 teaspoon orange peel, fresh or dried (You can find it dried in spice sections of most gourmet markets.)
¼ teaspoon cardamom
¼ cup currants (or raisins)
¾ cup water
1 tablespoon date paste
½ teaspoon salt
COCONUT WHIPPED "CREAM" INGREDIENTS (Prepare third)
3 medium young Thai coconuts, meat only (3/4 to 1 cup meat total)
½ cup coconut oil, firm (best to use Raw Skinny Coconut oil!)
⅛ cup honey or to taste
2 tablespoons vanilla extract
¼ teaspoon salt
APPLE FILLING INGREDIENTS (Prepare last)
4 medium apples, cored and cut into large pieces (optional: soaked in Kahlua or rum)
½ teaspoon sea salt (brings out the sweetness)
1 tablespoon lemon juice
Directions
Grind first set of ingredients in a food processor until finely textured, but don't over grind or else they'll release too much moisture (about 15-20 seconds of grinding depending on equipment).
On a Teflex dehydrator sheet, lay out the mixture so that it is as thin and evenly spaced as possible.
Dehydrate for 4-5 hours, and reserve extra for later use on topping.
APPLE PIE SAUCE INSTRUCTIONS
Using a very high-powered blender, blend all of the above until very smooth.
Keep the mixture reserved in the blender for later use.
COCONUT WHIPPED "CREAM" INSTRUCTIONS
Blend all the ingredients in a high-powered blender until very smooth.
Place into a storage container and refrigerate for later use. (Stays good for up to 3 weeks.)
APPLE FILLING INSTRUCTIONS (Prepare last)
Just before serving, pulse the ingredients listed above a few times in your food processor just to roughly chop the apple pieces into a chunky consistency.
APPLE PIE ASSEMBLY
Re-blend the apple pie sauce on a continuous run for 1-1 ½ minute to warm the mixture.
While blending, in a serving casserole dish (1-cup size) or large ramekin, place the pulsed apple filling leaving about an inch from the top for the crumble.
Spoon 2-3 tablespoons of the crumble over the apple.
Add a dollop of the Coconut Whipped "Cream" over the crumble and add a dash of nutmeg or add some dairy-free ice cream and some homemade chocolate syrup (no sugar), as I did in the above recipe.
Enjoy!