In a small bowl, combine 1/2 chopped onion and diced tomato. Set aside.
In another bowl, combine remaining chopped onion, Chili Powder, Red Pepper Flakes, Cumin, Coriander, Paprika, Sea Salt and Ground Beef.
In a medium sauce pan, add Ground beef mixture and cook over medium high heat. Typically, ground beef has enough fat in it that you do not need to add oil in order to prevent non-stick but if you like, you can add a little bit of ghee or coconut oil. Stir regularly.
Once cooked, set aside (about 10 minutes).
In a medium serving bowl, combine your lettuce, cooked meat, tomato & onion mixture and avocado. This is also where you would add the cheese if you like.
Ready to Serve.
Dressing:
Combine lime juice and cilantro. Drizzle over salad.
[ingredients]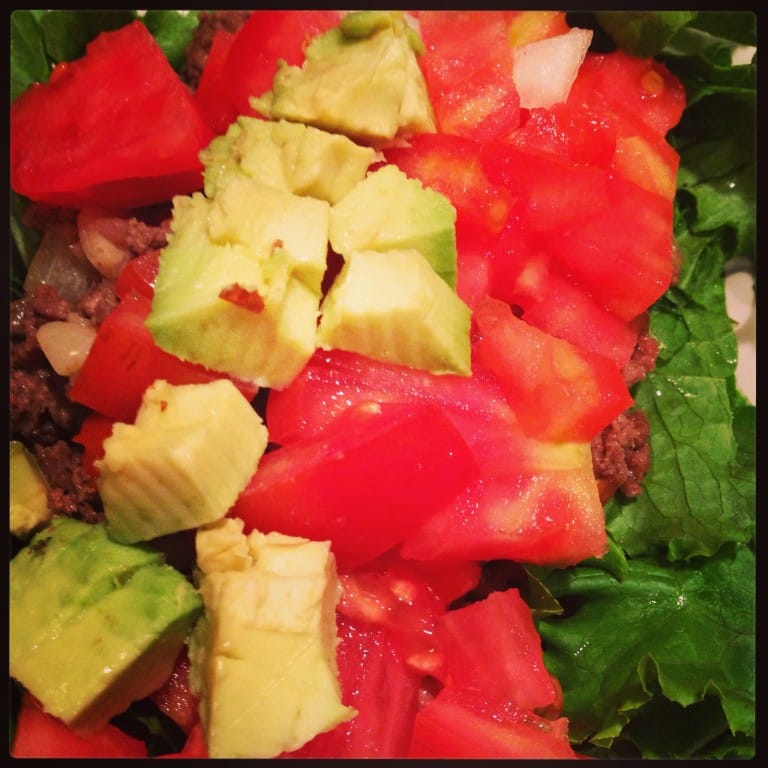 Ingredients
1 lb. Grass fed Ground Beef (one regular package)
1 Tomato diced
1/2 Sweet Onion chopped and split in to two groups.
2-3 Cups of chopped Romaine Lettuce
1/2 Avocado sliced and diced in to bite size pieces
1/2 Tsp Chili Powder
2-4 Tsp chopped Cilantro
1 Tsp Red Pepper Flakes, 1 Tsp Coriander, 1 Tsp Cumin, 1 Tsp Paprika
Lime juice from 1 Lime
Sea Salt to Taste