Paleo Bread – Almond Cashew Bread
I've had my eye on a few grain-free Paleo friendly bread recipes lately but haven't had the courage to try one until today. I wasn't' actually planning on blogging this recipe as it's my first attempt at a grain free loaf but it turned out so well that I had to share!!
This is a bit of a 'Franken-loaf' of Spark recipe's 'Paleo Almond Loaf ', Free The Animal's 'Fat Loaf" and Against All Grain's 'Grain Free Sandwich Bread'
It' was all a bit of guesswork but somehow this beautiful golden moist, non-crumbly loaf miraculously appeared from my oven!!
Cooking method:
Pre-heat the oven to 180 degrees C (355F) . Then literally throw all the ingredients (holding only the sesame seeds and a teaspoon's worth of flax seeds for sprinkling) into the blender and blend for a good 2 minutes. Pour it into a small bread tin (3″ x 8″) lined with grease proof paper or a drop of oil. Sprinkle the sesame and remaining flax seeds on top and place it in the warm oven for 20 mins then turn the temperature down to 150 degrees C (300F) for a further 10 mins. Turn the oven off and let it cool slowly before removing it from the oven.
I know it is hard but don't eat it right away, let it cool for at least 10 mins before slicing it. I can't believe how thin you can slice it without it falling apart! This 'bread' has a lovely creamy flavour to it which I'm sure is due to the cashew butter. Give it a go, its super easy.
[ingredients]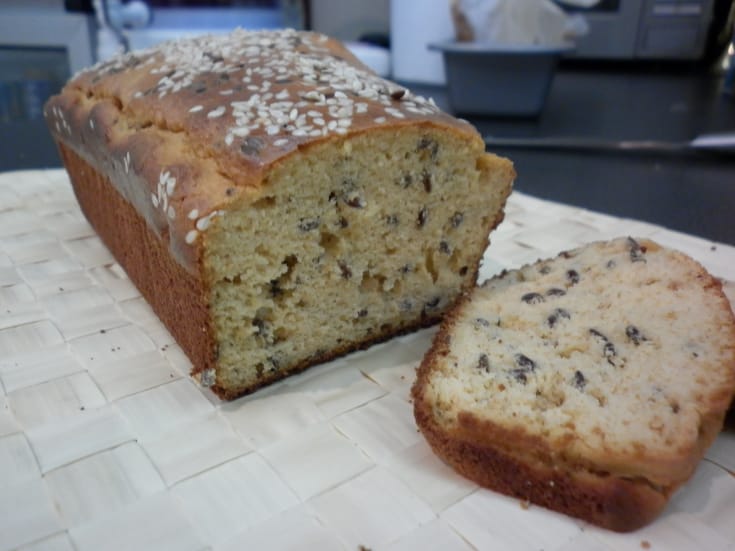 Ingredients
?1 cup Almond Flour
?2 Tbsp of Cashew nut butter
?4 Free range Eggs
?1 Tbsp vinegar (All I had on hand was white)
?1/2 Tbsp Agave nectar or honey if you want to avoid it
?1 1/2 tsp baking soda
?1 Tbsp whole flax seeds
?1 tsp sesame seeds
?1 tsp Sea Salt