If you ask ten people what "chili sauce" is, you're likely to get nearly ten different answers. I immediately think of the bottled stuff by the ketchup and cocktail sauce at the grocery store, a sort of kicked-up ketchup that served as a base for many pot luck dishes from my childhood.
I've been making double batches of this, as not only is it serving as a base for several upcoming recipes I'll be sharing, it's a delicious and versatile condiment to have in the fridge. You can use it any way you'd use ketchup or barbecue sauce–for dipping sweet potato or other veggie fries, pouring over meat in the slow cooker for pulled beef/pork/etc., topping meatloaf, a quick and easy sauce for chicken wings, a sloppy joe sauce, for dipping shrimp–there are many possibilities!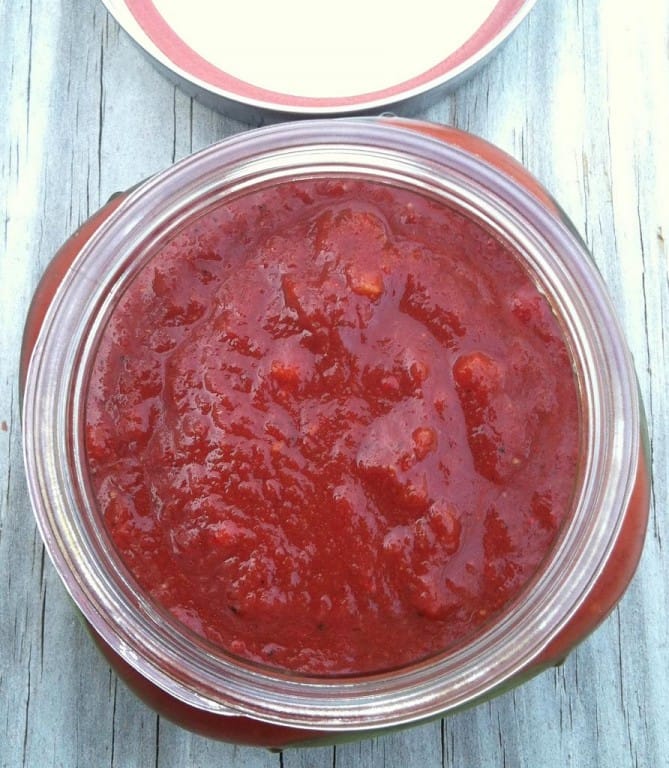 Ingredients
1 tsp animal fat or coconut oil
1/4 cup onion, very finely diced
1 clove garlic, very finely minced
1 6 oz can or 7 oz jar tomato paste
1/2 cup water
1/4 cup apple cider vinegar
1 Tbsp coconut aminos
1 tsp chili powder
1/2 tsp fine salt
1/4 tsp black pepper
1/4 tsp ground allspice
Honey to taste, optional
Directions
In a sauce pan, heat fat/oil over medium heat. Add onion and cook for 3 minutes, stirring often so they don't brown.
Add garlic and cook for one minute, stirring constantly so it doesn't brown.
Add remaining ingredients except honey, bring to a soft boil, reduce heat to low and simmer 30 minutes, until it's thickened to the consistency of ketchup.
Remove from heat and stir in honey to taste, if desired. Let cool and store in an air-tight container in fridge.