Paleo Coconut Flour Banana Pancakes
Please go to the following url for tips and tricks to making coconut flour pancakes simple.
http://www.cloudywithachanceofsprinkles.com/2013/01/paleo-coconut-flour-banana-pancakes.html#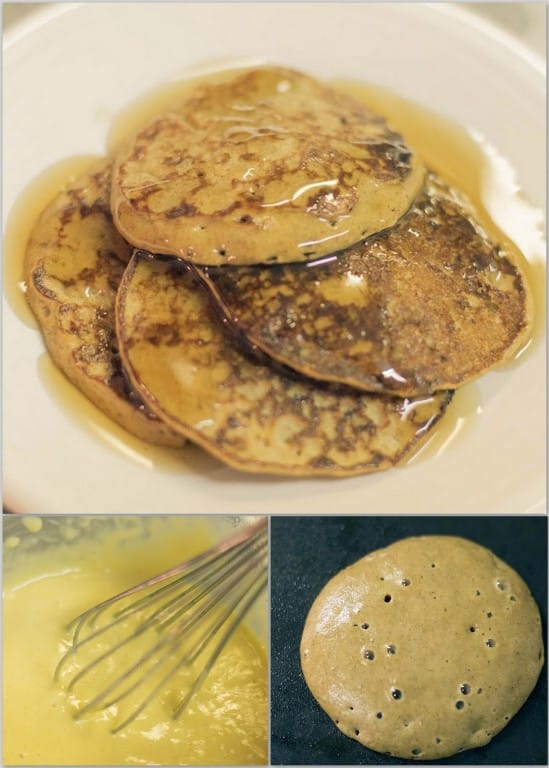 Ingredients
3 Eggs
1/2 Cup Mashed Banana
1/4 Teaspoon Vanilla Extract
1/2 Tablespoon Ground Cinnamon
2 Tablespoons Honey
2 Tablespoons Coconut Flour
Coconut Oil
Optional: Dried Blueberries, Walnuts or Coconut Flakes
Directions
Heat pan or griddle with coconut oil to Medium/High Heat Begin by whisking 3 eggs in a large bowl.
Mix in mashed banana (Some small pieces are desired), Vanilla, Cinnamon, and Honey Add in Coconut Flour Whisk together
Let sit for about 5 minutes. The allows the coconut flour to thicken the batter. Pour batter onto pan or griddle (silver dollar size)
Let cook on the first side for about 4-6 minutes depending on the heat level. They will begin to bubble at about 2 minutes but don\'t get impatient and flip them ;)
Okay, they should start to look as if the top side is nearly done cooking. You can tell it is the right time when the top takes on more of a matte look and no longer looks like raw batter. At this point they are ready to be flipped. Top with Maple Syrup, Honey, Butter, Fruit, or whatever you like.