Paleo Cream of Mushroom Soup
Notes/Substitutions: This recipe is perfect for me as far as chunkiness, but if you like yours much chunkier or not so chunky, you can play around with the amount of mushrooms you use. You can also substitute your favorite mushrooms for the portabellas and omit or substitute other herbs for the parsley and rosemary. I think portabellas have sort of a beefy flavor, and since I love rosemary and beef as a flavor combination, I add a little to this soup (it can be very overpowering, so I use it sparingly).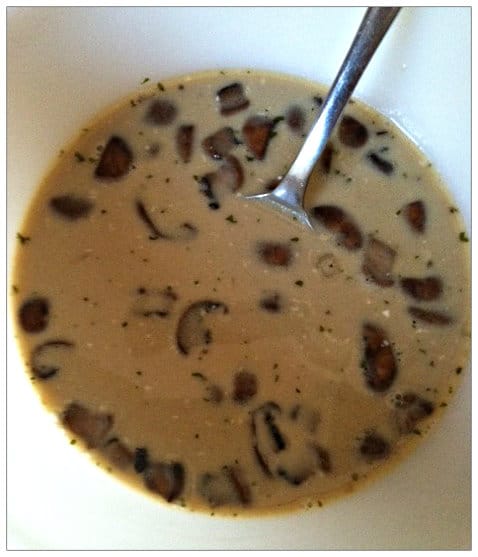 Ingredients
8 oz portabella mushrooms
1 small clove garlic
1/2 small onion
3 cups (24 oz) beef or vegetable stock
1/2 cup canned coconut milk
2 Tbsp grass fed butter/ghee/oil
1/2 tsp salt
1/2 tsp dried parsley
1/4 tsp dried rosemary
fresh cracked black pepper to taste
Directions
Remove stems from mushrooms, wipe clean with a towel and chop. Mince garlic and onion. Chop/crush rosemary before you measure 1/4 tsp.
Place butter/ghee/oil in a soup pot over medium to medium high heat. Add mushrooms, garlic and onion and cook for four minutes. Add salt, pepper and herbs and cook until mushrooms start to brown.
Add stock and stir, making sure you scrape up any of the browned bits off the bottom of the pot. Bring to a soft boil, add coconut milk, reduce heat and simmer until heated through.