Some of the benefits of curry include helping with joint inflammation, reducing the risk of Alzheimer's, dementia, and cancer, and helping burn fat cells, and easing digestion (unless you make it too spicy—woo!). Wow, I don't know about you, but I'm sold!
I talk about this all the time, but when you look at all the health benefits of items on the paleo food list, you can really see the importance of eating a wide variety of veggies, fruits, spices and herbs. Mother Nature provided us with so many ways to nourish ourselves, and I'm sure grateful!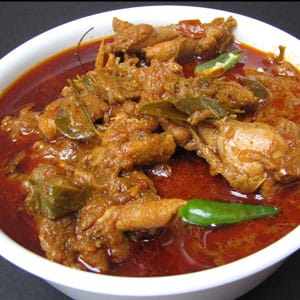 Ingredients
6 oz. stewed tomatoes
2 oz. hot water
4 teaspoons curry powder
1 teaspoon cumin
1 teaspoon coriander
2 minced garlic cloves
1 large onion diced
1 chicken breast, diced (or whole chicken leg or thigh)
Gluten-free soy sauce (1-2 dashes or to taste)
1 red pepper (capsicum) de-seeded and diced
Optional: You may serve this dish over "rice" cauliflower (recipes for this all over the internet)
Directions
Brown your chicken and onions in a pan.
Add all of the spices, stewed tomatoes and water and cook on medium heat for approximately 10 minutes – add water if necessary so that it won't dry out.
Meanwhile, prepare your "rice" cauliflower (optional).
Add red pepper to mix and let cook for about a minute or so.
Serve in bowls, on plates with a nice side salad or over "rice" cauliflower.
Enjoy!
NOTE: For larger portions, double the recipe or triple it or more.For larger more formal dishes, leave chicken parts whole and leave stew covered for 45 minutes until chicken parts are thoroughly cooked as in the picture.