Paleo-fied \"Cheese\" Ball Dip
1. Soak cashews in a bowl of water for 4-8 hours, changing the water at least once. Rinse well but do not dry.
2. Place cashews, vinegar and 1/4 cup warm water in blender or food processor and blend until smooth and creamy, adding water slowly as necessary to get to desired consistency.
3. Place cashew mixture in bowl and add remaining ingredients, tasting to check for seasoning.
4. Refrigerate for at least an hour before serving to let it firm up and the flavors meld. Serve with vegetables, paleo crackers and/or paleo bread (I didn\'t care for the crackers pictured, so I\'m trying a couple more recipes from here on FastPaleo).
[ingredients]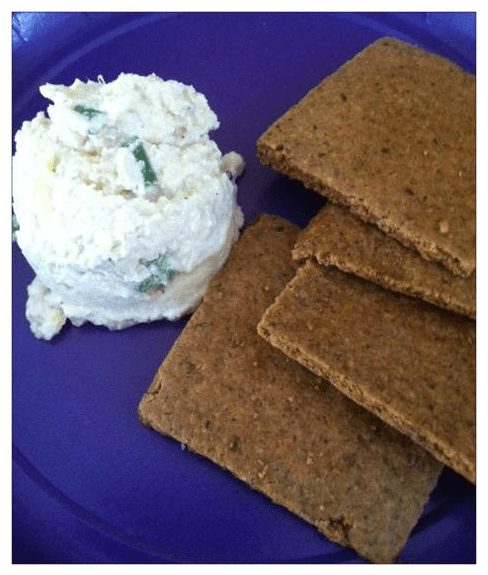 Ingredients
8 oz raw cashews (apprx 2 cups)
1 Tbsp apple cider vinegar
1/4 to 1 cup warm water
1/2 cup crushed pineapple (well-drained)
1/2 medium bell pepper, chopped
1 scallion chopped (green and white parts)
1/2 tsp salt*
1/4 tsp fresh cracked black pepper*
1/4 tsp garlic powder*
* or to taste