Paleo Flank Steak with Chimichurri Sauce
Chimichurri sauce is a popular marinade among Argentine Gauchos (South American "cowboys," you could call them) who grill in an open barbecue in the Pampas. I was first inspired to make this recipe at a Pampas-style steakhouse after meeting my wonderful pal, Chef Joseph. I couldn't believe how amazing the steak was, and I was set on recreating it in my own kitchen.
Keep in mind when you're making this that flank steak grows tender with the help of the chimichurri marinade and cooks quickly. Thank you, Chef Joseph, for all your inspirations and your utmost respect for the human body and soul. You are an amazing person and a totally free spirit. I will always enjoy the memories of your times over at our home and the many stories of your adventures.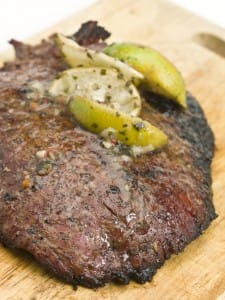 Ingredients
1 ½ lb beef flank steak
6 cloves garlic, finely chopped
1 cup grape seed oil
½ cup white wine vinegar
½ cup lemon juice
¼ cup parsley
1 teaspoon crushed red pepper
NOTE: double this recipe if you like leftovers
Directions
Cut diamond pattern ⅛ inch deep into both sides of the beef. Place beef in shallow glass or plastic dish.
Shake remaining ingredients in tightly covered jar.
Pour 1 cup sauce over beef.
Cover remaining sauce. Cover and refrigerate beef, turning occasionally, at least 4 hours.
Remove beef from sauce.
Grill beef 4 or 5 inches from medium coals, turning and brushing with sauce once, until desired doneness, 6 to 8 minutes on each side for medium.
Cut beef diagonally across the grain into thin slices.
Serve with reserved sauce.
Enjoy!