Paleo Gluten Free Tahini Cookies
Ok, so what is the big deal about these Paleo Gluten Free Tahini Cookies? I think it is the unusual use of the ingredients which enable my paleo recipe to be very low in the use of sweeteners which ultimately play with one's blood sugar, and which makes our little ones run around like they have been shot with a major dose of corn syrup! This is the case with so many items labeled "healthy" or paleo treats these days online and on the shelves. I find too many bars on the shelves labeled as paleo which have such a high carb and sugar content that it is far better to just go home and whip up a REAL healthy recipe.
The use of protein also gives that additional boost of support to a workout as well as those strived-for growth hormones. Think larger leaner muscles, think stable happy blood sugar and then think clearer minded and feeling on top of this world! Ah, now I have you a little more interested right?  The little ones love any small treat that they can hold and bite into, so why not add a boost of healthy to their after school treat.
Give it a try and be sure to use a quality protein like I suggest, as Robb's does not give a gummy, odd texture when cooked in recipes. I love it.
Happy baking, and do let me know how your recipe turns out by sending me an email!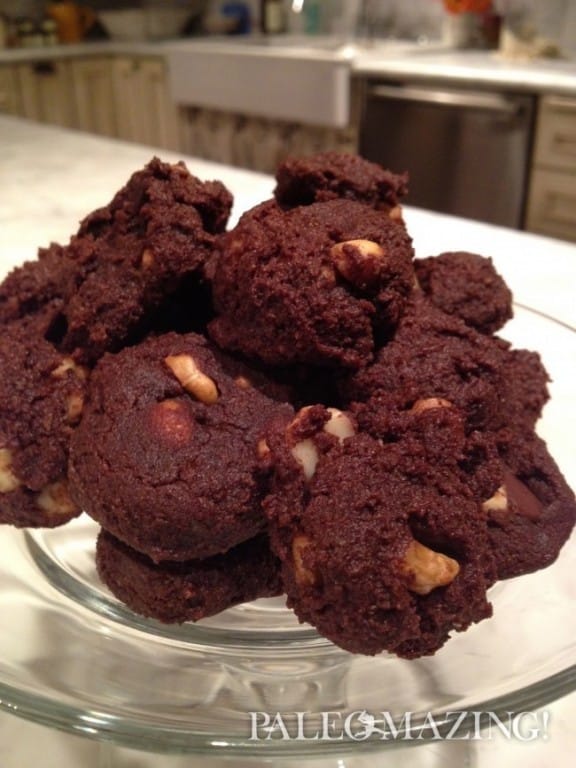 Ingredients
¼ cup almond flour
¼ cup tapioca flour
⅓ cup plus 1 tablespoon organic, 100% cacao powder (dutch process)
2 tablespoons Jay Robb's (egg or whey) chocolate protein powder
4 tablespoons Lakanto (brown) or Zensweet
⅔ cup tahini
6 dates – pureed
5 whole eggs
2 drops stevia
OPTIONAL: Nuts
Directions
Preheat the oven to 375F degrees.
Combine first 5 ingredients together in a mixing bowl and mix well.
In a second bowl add your eggs and whisk well.
Add the remaining wet ingredients to the eggs and mix with a hand mixer.
Gently fold the ingredients from the second bowl into the dry ingredients and stir well to combine.
Place tablespoon-sized drops of batter onto parchment paper lined baking sheets.
Bake (not convection) in the oven for 8-10 minutes or until cooked (ovens vary in cooking).
Enjoy!