Paleo Mayonnaise (with cooked egg yolk!)
1. Place egg yolk and lemon juice in a small pot and whisk constantly over low heat until the mixture starts to froth and is thick enough to coat the back of a spoon. Immediately place in mixing bowl and into fridge to cool.
2. Very slowly pour a very thin stream of oil into the egg yolk mixture while briskly and constantly whisking. When you have a strong emulsion (oil and egg yolk are completely combined and transformed into a white, creamy mixture, not curdled or separated), you can add the rest of the oil more quickly.
3. Season with salt and pepper to taste and store in fridge for up to one week.
Yields approximately 1 cup
Notes:
Confession–I am freaked out about using raw, non-pasteurized egg yolks for mayo. Yes, even farm-fresh eggs. Yes, I know I\'m probably overly paranoid. Anyway, I did a lot of research about making raw eggs safer at home (I can\'t find pasteurized eggs locally), and I finally decided to try a method for cooking yolks that calls for using two tablespoons of liquid per egg yolk and whisking the mixture over low heat. The result was fabulous as far as both consistency and flavor of my mayo, so I plan to stick with cooking my yolks. I cannot vouch for the method actually being safer than raw yolks, and I still follow the same safety precautions as far as storage, but it makes me feel better.
I don\'t normally use refined oils, but I use extra light olive oil for this recipe and not extra virgin, as the flavor of extra virgin olive oil overpowers the mayo, and I really do not recommend it. You can also use oils such as coconut, avocado or macadamia nut, or even a mixture of oils. Just note that if you use coconut oil, the mayo will somewhat harden when chilled, and virgin coconut oils can impart a coconut flavor.
More notes on the blog post!
[ingredients]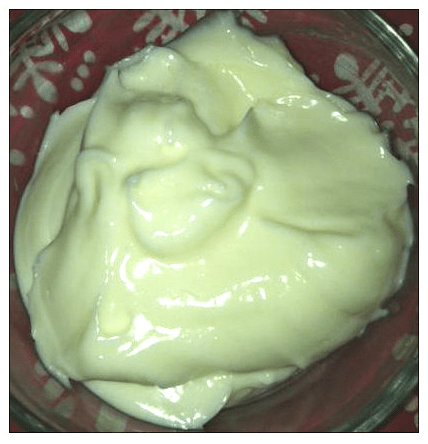 Ingredients
1 large egg yolk
2 Tbsp lemon juice
3/4 cup extra light olive oil (or your favorite oil, see notes)
salt and pepper to taste