Paleo Mediterranean Salad
This is a fresh, healthy, and colorful salad that can be an entire meal for two. You can vary your ingredients and proportions, depending on what is in season, and what vegetables you like. The veggies, olives, and vinaigrette give it a Mediterranean flavor, and the chicken gives it the paleo/primal protein.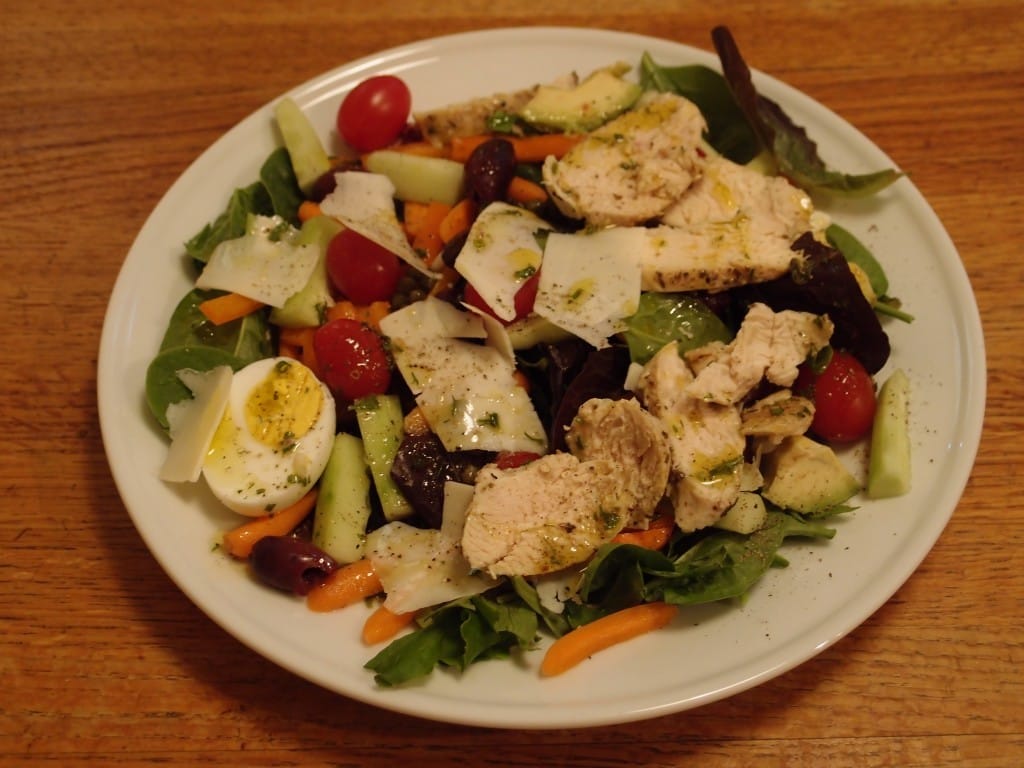 Ingredients
6 cups washed, mixed baby greens
1 sweet pepper, washed, halved, seeded, and julienned
20, or so, baby carrots, julienned
20, or so, washed grape tomatoes
half large cucumber, peeled, seeded, cut into strips
20, or so, mediterranean olives, such as provencal or kalamata
1 tablespoon capers
1 half avacado, sliced
1 hard-boiled egg, halved
2 boneless chicken breasts, seasoned with salt, pepper and herbs, sauteed in olive oil
asiago or other hard italian cheese (optional)
vinaigrette (e.v. olive oil, vineger, salt, pepper, fresh herbs)
Directions
Prepare salad ingredients as in list of ingredients. Divide between two plates. Drizzle on vinaigrette.
Recipe for vinaigrette: 1. Place tablespoon of red wine or champagne vinegar in small bowl. 2. Add pinch of salt, whisk until dissolved. 3. Slowly whisk in 3 tablespoons of e.v. olive oil. 4. Grind in pepper and whisk. 5. Whisk in fresh herbs of choice.