Paleo Mint Chocolate Chip Ice Cream
MORE RECIPES AT: http://livinghealthywithchocolate.com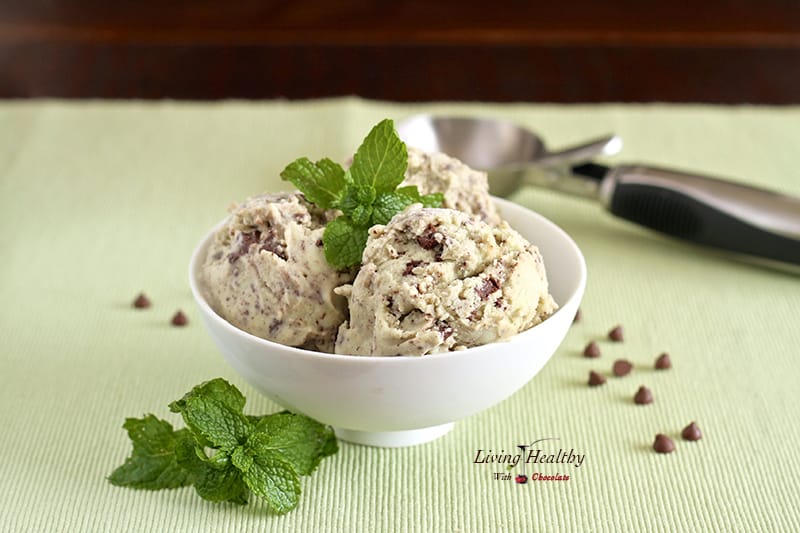 Ingredients
2 cans (13.5oz) of full fat coconut milk or 3 3/8 cups of heavy cream
4 tablespoons arrowroot powder
6 tablespoons raw honey
2 eggs
Pinch of salt
2 cups fresh mint leaves
1 tablespoon vanilla extract
Homemade chocolate chips (recipe on livinghealthywithchocolate.com)
Directions
Whisk together the coconut milk (or heavy cream) with the arrowroot powder in a saucepan.
Add the honey, eggs, salt and mint leaves and slowly bring the mixture to a boil over medium heat stirring frequently when it starts to bubble remove from heat, mix in the vanilla extract and let it cool completely.
Refrigerate mixture overnight to infuse the mint flavor.
Make the chocolate according to this recipe (http://livinghealthywithchocolate.com/desserts/how-to-make-84-dark-chocolate-from-scratch-using-honey-699/) but double the recipe and skip the tempering process.
Line a small tupperware or any container with parchment paper and pour the melted chocolate. Cover and freeze the chocolate. Once chocolate is frozen chop into small pieces and return to the freezer.
Remove the mint from the chilled ice cream with a strainer, then press down with a spatula firmly to extract as much mint flavor and color as possible. Once the flavor is squeezed out, discard the mint.
Fold in the chocolate chips and place mixture in the ice cream maker.