Paleo Mint Chocolate Cookies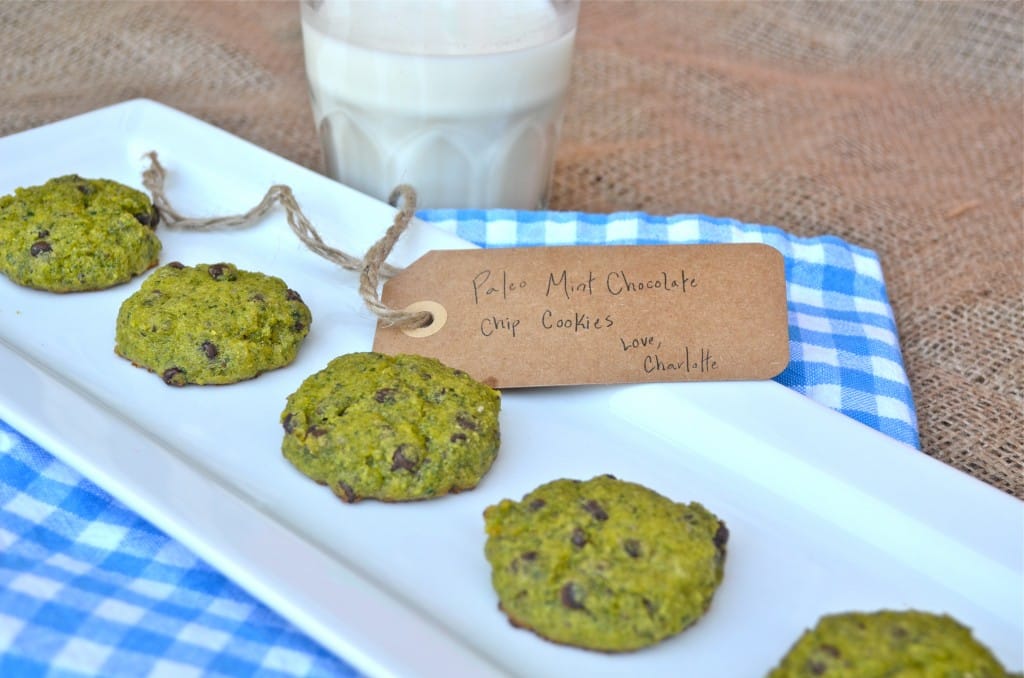 Ingredients
1 cup packed spinach leaves
1/3 extra virgin coconut oil, softened
4 TBS grade B maple syrup
3 eggs
3-4 tsp peppermint extract (to taste)
5 Tbs + 1 tsp coconut flour
1/4 cup enjoy life chocolate chips
2 tsp chia seeds
Pinch of salt or 1/8 tsp salt
Directions
***Preheat oven to 350F***
Add 1 cup packed spinach leaves to food processor. Process spinach leaves until very finely chopped.
Next, 1/4 cup softened coconut oil to food processor and blend coconut oil and spinach together.
Once spinach and coconut oil are well combined, add 3-4 TBS maple syrup to mixture and process again.
Next, add 1/8 tsp salt, 3 eggs and 3-4 tsp of peppermint extract (amount depends on how pepperminty you want the cookies) and blend mixture again.**Once spinach, coconut oil, maple syrup, eggs and peppermint extract have been blended together, you may want to transfer mixture into a bigger bowl and use a hand mixer for the next steps. I have a small food processor so this is what I did.
Slowly add in 1 TBS of coconut at a time and combine mixture well before adding next TBS of coconut flour. In total, you will add 5 TBS + 1 tsp of coconut flour to the mixture. Make sure not to pack the coconut flour when measuring it out; instead scrape the remaining flour off the top of the TBS/tsp with your finger.
Taste the mixture and see whether or not you need more maple syrup, peppermint extract, etc.
Add 1/4 chocolate chips and 2 tsp chia seeds and combine with mixture.
Grease baking sheet with ghee/grass-fed butter. Refrigerate cookie dough for 20 minutes while you clean up, etc. After cookie dough has been refrigerated, roll into small balls about 1 TBS of dough and place on baking sheet.
Bake for 15 minutes at 350F, let cool and enjoy!