If you are anything like me and crave something yummy when 3:30pm comes around – don\'t stress! This recipe is an easy, no bake, no fuss solution!
————————————————
Melt the coconut oil. Mix the coconut oil, cocoa power and honey together until smooth.
Roughly chop the tree nuts. Add tree nuts and dried currants to the wet mixture.
Place mixture on a tray lined with parchment paper and allow to set in either fridge (1 hour) or freezer (30 minutes).
For a little something extra, sprinkle unsweetened shredded coconut over the bars before allowing them to set!
Cut and serve! 🙂
[ingredients]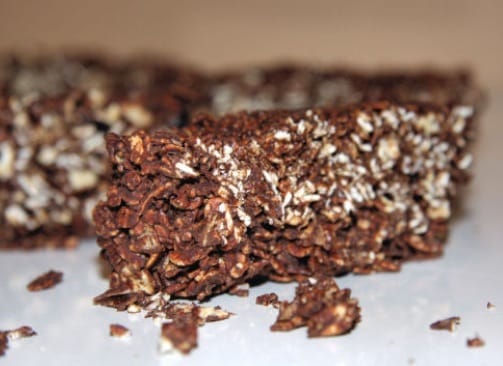 Ingredients
1/2 cup mixed tree nuts
2 tablespoons dried currants
1 cup dark chocolate chips
1/4 cup coconut oil
3 tablespoons cocoa powder
1 tablespoon honey
(1 tablespoon shredded unsweetened coconut)