Paleo Pizza Stuffed Peppers
Heat oven to 400 F
Heat olive oil in a large pan over medium heat.
Once oil is hot, add onions to pan and cook until translucent, stirring often (2 to 3 minutes)
Add garlic and cook for an additional minute, while continuing to stir
Add Italian sausage, peppers and mushrooms to pan, cook until meat is browned, about 10 minutes
Drain meat mixture and add to a large bowl along with tomato sauce, tomato paste, crushed red peppers, herbs, salt and pepper. Stir until well combined.
Scoop the filling evenly into each of the four bell peppers. Place peppers standing up into a small glass baking dish.
Bake for 40-45 minutes, until peppers are tender and filling is heated through.
[ingredients]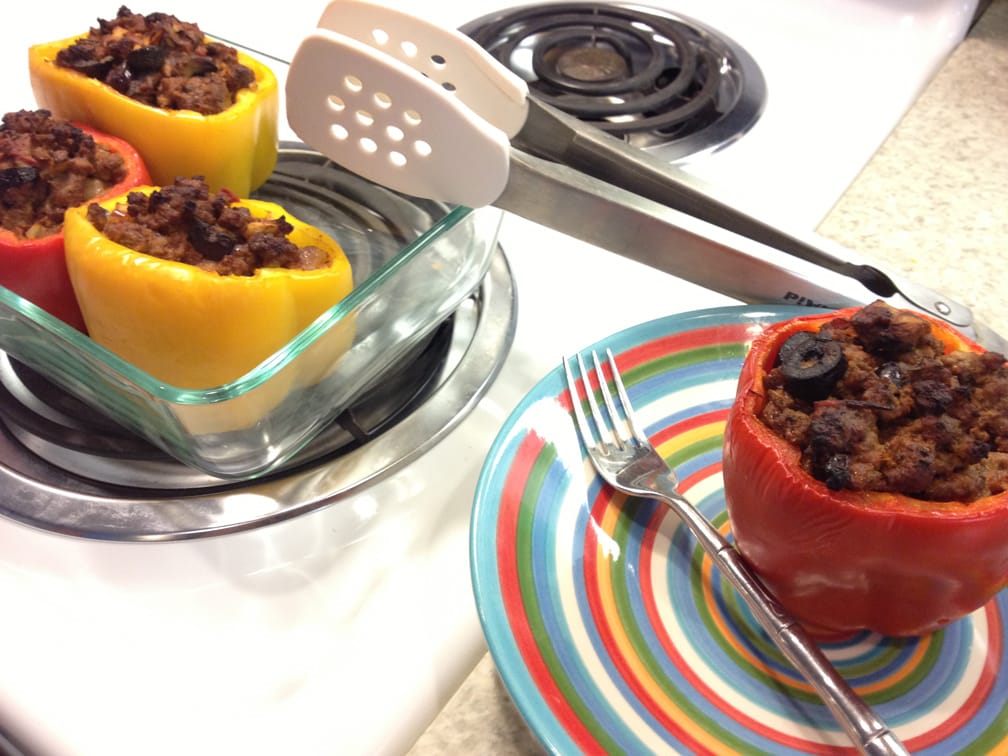 Ingredients
2 tbsp olive oil
1/2 red onion, diced
2 cloves garlic, minced
1 lb ground Italian sausage
4 bell peppers, tops cut off and seeds removed (reserve and dice tops to be used in filling)
4 button mushrooms, diced
10 black olives, sliced
1/2 cup tomato sauce
1/4 cup tomato paste
1 tsp crushed red peppers, A few sprigs of fresh thyme, oregano and rosemary, leaves chopped (or 1/2 tsp of each, dried) Dash of salt and pepper