Paleo Pumpkin Cheesecake Cups
DIRECTIONS:
Preheat oven to 350 and line a cupcake pan with 12 cupcake liners. Make your crust by combining all the crust ingredients until well mixed. Press about a teaspoon of the walnut mixture into the bottom of each cupcake liner. Bake for 8-10 minutes. Your oven will smell divine. Let cool.
Mix your pumpkin pie layer by combining all the ingredients. Put about 1 Tablespoon of the pumpkin pie mixture on top of the walnut crust. Bake for 45 minutes or until set. Let cool.
Dairy free "cheesecake" directions:
Soak your cashews for 6 hours. Drain your soaked cashews and place them into a blender or food processor. Juice your lemon and add just enough water to equal ½ cup. Pour the lemon/water mixture into the blender and add the rest of the ingredients. Process for a few minutes until smooth and creamy.
Add your cheesecake topping on top of the pumpkin pie layer by filling the cups until the cheesecake mixture reaches the top. Add any topping you want now. I pressed a walnut on top of the cheesecake layer for extra cuteness points. You can add almonds, pecans, a piece of chocolate, or nothing at all, etc. Refrigerate for at least an hour and keep stored in the refrigerator. Enjoy!
[ingredients]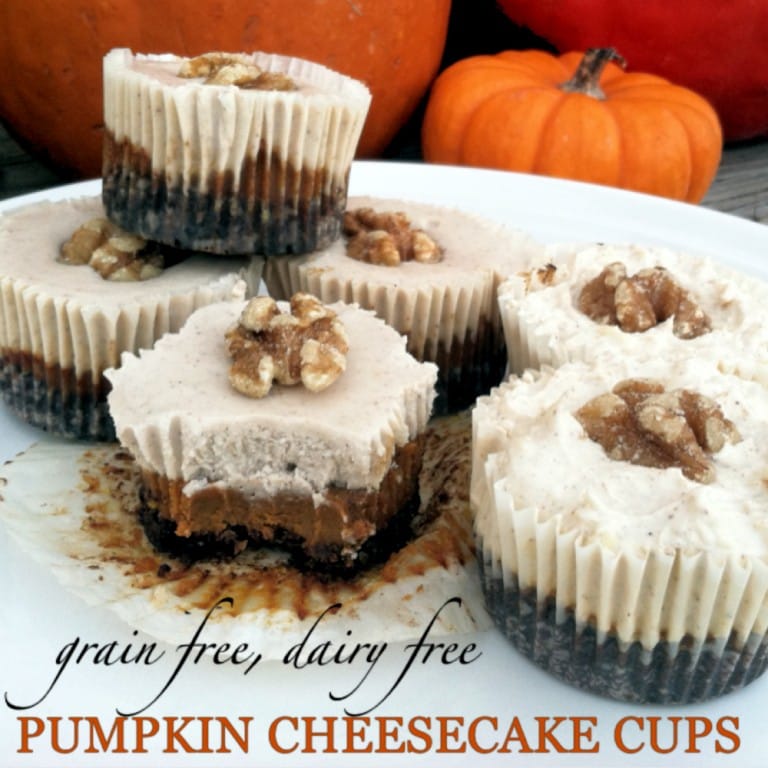 Ingredients
Crust ingredients: 1 cup walnuts, crushed
3 T coconut oil, melted 1 T pure maple syrup, 1/2 tsp cinnamon, 1 tsp vanilla, 1/4 tsp salt 1/4 tsp baking soda
"Cheesecake" Ingredients: 1 cup cashews, 2 T raw honey, 1/3 cup coconut oil, melted
1 T vanilla, 1 lemon + water to equal 1/2 cup total, 1/2 tsp pumpkin spice, pinch salt
Pumpkin Pie Ingredients: 1 cup pumpkin
1 1/2 tsp pumpkin spice
1 egg
1-2 T honey