Paleo Roasted Squash Slices w/ Sage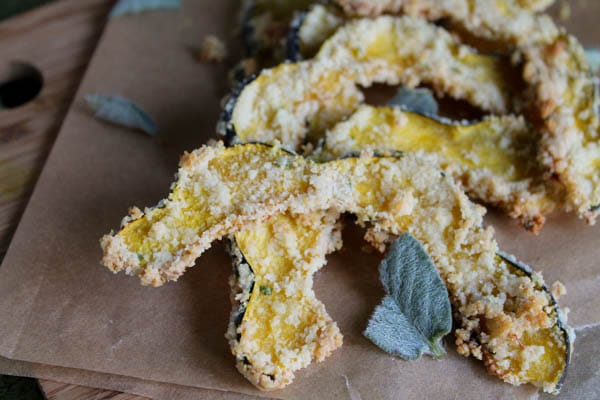 Ingredients
1 acorn squash, or 2 delicata
3-4 tablespoons melted ghee or avocado oil
½ cup almond flour or meal
1 teaspoon fresh sage, finely chopped
1 teaspoon dried parsley
½ teaspoon sea salt
2 cloves minced garlic
Directions
Preheat the oven to 400 degrees.
Halve your squash, clean out the seeds and pulp with a sturdy metal spoon.
Slice the squash into crescent shapes ¼ to ½ inch thick.
In a bowl, drizzle the ghee or oil over the squash.
Sprinkle the remaining ingredients over the top and toss the slices thoroughly.
Spread the slices in a single layer and bake in the preheated oven for about 30 minutes until the squash slices are tender the coating is turning golden.