Paleo Sausage and Apple Stuffed Breakfast Bell Peppers
I halved and de-seeded a few green bell peppers and filled them to the top with a sweet and savory mixture of sauteed spinach, apples and breakfast sausage and then baked the peppers until they were soft and just beginning to brown.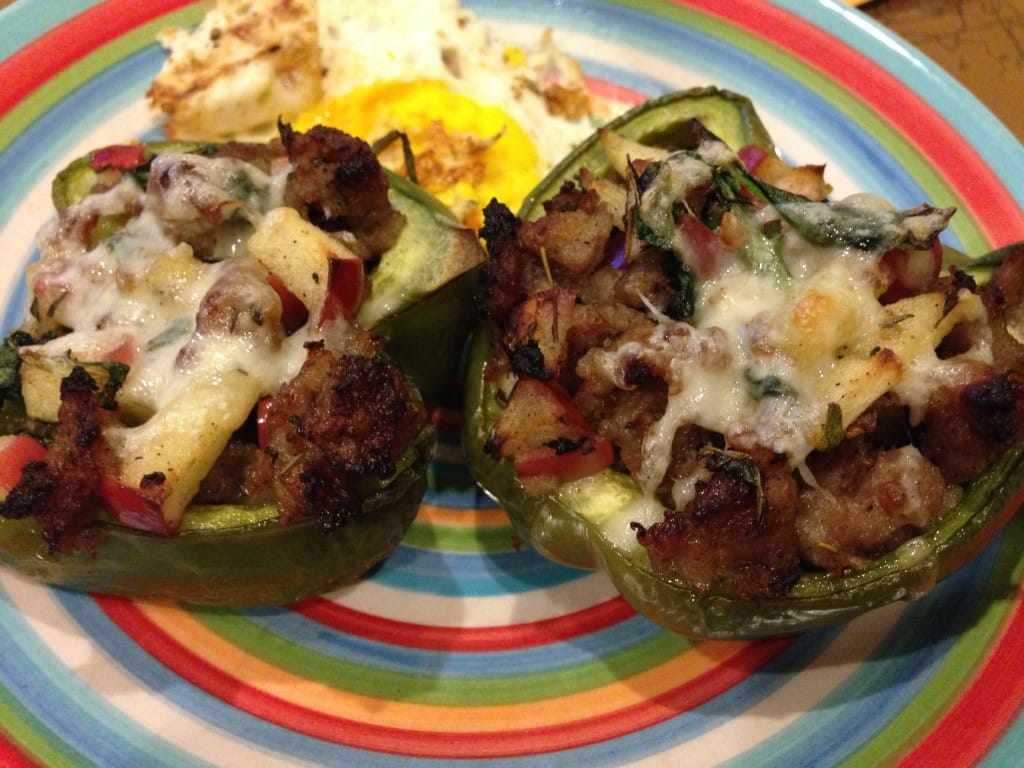 Ingredients
4 Green Bell Peppers, halved lengthwise and de-seeded
1 lb ground breakfast sausage (I used salt and pepper flavor)
2 apples, diced
2 big handfuls of spinach, chopped
1 tsp cinnamon
1/2 tsp allspice
1 tsp thyme
Salt and pepper to taste
Directions
Preheat oven to 375F.
Roast the bell peppers, hollow side up, on a baking sheet while you prepare the other ingredients.
While the peppers are roasting, heat a skillet over medium heat. Add the sausage and cook until browned, breaking up the sausage into small pieces as it cooks.
Once the sausage is browned, drain the grease and return the sausage to the pan. Add apples spinach and spices. Cook an additional 5 minutes, until spinach is wilted and apples are softened.
Remove the bell peppers from the oven and scoop sausage and apple mixture evenly between bell pepper halves. Return to the oven and roast for an additional 30 minutes, until peppers are softened and beginning to brown. Optional: If you plan to add cheese, sprinkle cheese on peppers and cook for an additional 3-5 minutes, until cheese is melted.
Remove from oven and serve warm, preferably with a fried egg on the side!