Paleo Skinny Carrot Cake with Coconut Cream Frosting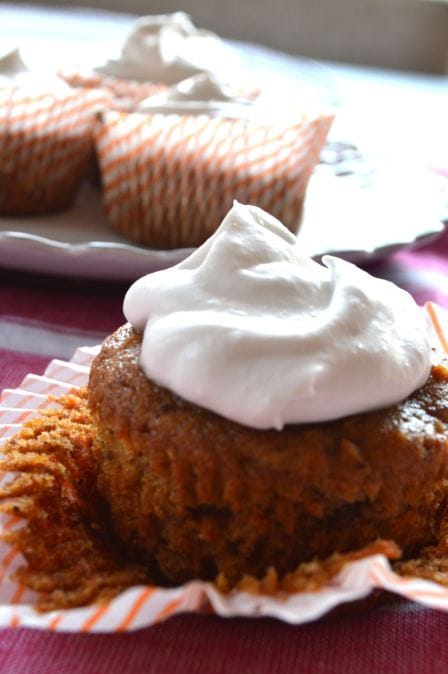 Ingredients
1 1/2 cup blanched almond flour
1 teaspoon Kosher salt
1 teaspoon cinnamon
1/2 teaspoon nutmeg
3 eggs
1/4 cup maple syrup
2 tablespoons coconut oil
1 1/2 cups of shredded carrots
4 dates, no pits
1/4 cup of walnuts; 1/4 cup of raisins
Directions
Start by setting the oven to 325 degrees. You will use the middle shelf. At this point, also line a cupcake pan with cupcake liners. The recipe will do about 10 cupcakes.
In a food processor, put the carrots and the dates. Pulse until well blended. Then add the eggs, the maple syrup and the oil. Add the almond flour and the rest of the dry ingredients. Keep processing in low. Finally, remove and fold in the walnuts and the raisins.
Divide evenly amongst ten cupcakes, and bake for around 18 minutes or until a clean knife comes out clean.
Let them cool FULLY, and finish up with a dollop of coconut cream frosting.