Paleo Slow-Cooker Pulled Pork Recipe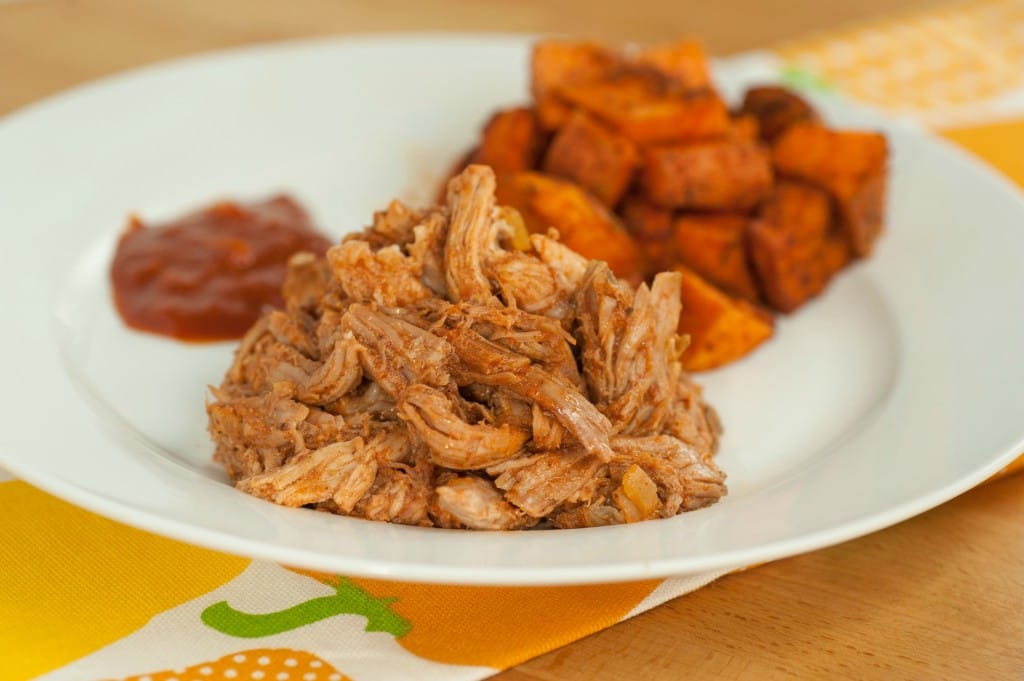 Ingredients
Dry Rub:
2 Tablespoon garlic powder
2 Tablespoon onion powder
2 Tablespoon ground cumin
2 Tablespoon ground coriander
2 Tablespoon oregano, dried
2 Tablespoon salt
1 Tablespoon pepper
Other Ingredients:
5–7 lb pork roast, preferably shoulder or Boston butt
8 oz jar salsa
1 large yellow or white onion, cut into eighths
4 celery stalks, chopped
2 bay leaves
Sauce:
1 Tablespoon extra virgin olive oil
3 cloves garlic, finely minced
½ yellow onion, finely minced
2 Tablespoon chili powder
1 t salt
1 (6 oz) can tomato paste
2 Tablespoon Dijon mustard
2 Tablespoon apple cider vinegar
¼ cup honey
2 Tablespoon molasses
1 cup chicken stock
Directions
Mix the rub ingredients in a small bowl, pat onto the pork. Cover and refrigerate at least 1 hour, up to overnight.
In a slow cooker add salsa, coarsely chopped onion, celery, and bay leaves. Place the pork on top. Set the slow cooker to low and cook for about 6 hours. Roast until pork is falling apart or an instant-read thermometer stuck into the thickest part of the pork registers 170° F.
When the pork is done, remove from the slow cooker and place on a large platter. Allow the meat to rest for 10–15 minutes.While the pork is resting, make the sauce by heating oil in a medium sauce pan over medium-high heat. Add the garlic and onion and cook until translucent, 3–4 minutes. Reduce the heat, stir in the chili powder and salt, cook for 1 minute to combine. Then add tomato paste, Dijon mustard, apple cider vinegar, honey, and molasses. Stir for 1 minute. Then add chicken stock. Gently simmer the sauce until thick and richly flavored, 10–12 minutes. Add salt and pepper to taste.
While the pork is still warm, you want to pull the meat. I prefer to use my hands, but you can also use two forks. Hold one fork securely to steady the meat, and use the other fork to pull shreds of meat off the roast. Combine the pork and the sauce. Toss to coat. Serve pulled pork platter-style (sans bun).