More recipes just like this (easy, quick and delish!) over on our blog! Enjoy these delicious mushrooms!
e + c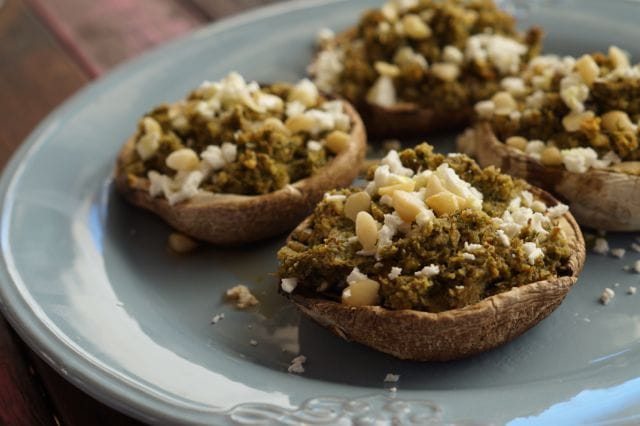 Ingredients
4 field mushrooms
½ cup fresh dill
½ cup fresh basil
½ cup almond meal
½ cup walnuts
1 lemon juiced
50g goats feta crumbled (optional)
2 tbs. avocado or olive oil
2 tbs. macadamia nuts crushed (or your favourite nut)
Directions
Preheat oven to 200 degrees celsius (400F) and line a tray with baking paper.
Remove the stalks from the mushrooms and lie the mushrooms (black bit upwards) on the baling tray, set aside. In a food processor (we use our Vitamix) combine the mushroom stalks, herbs and walnuts until fine.
Transfer mixture to a bowl. Add the almond meal, lemon juice and a one tbs. of avocado oil and mix well.
poon the mixture into the mushroom caps and drizzle with a little more oil. Bake for 10-15 minutes or until the mushrooms are cooked through and the stuffing is getting nice and crispy. Serve with crumbled feta and macadamia nuts.