If you have a Thermomix, great, if not, no problem, I have two methods to make the cauliflower rice. In a Thermomix or food processor, process the cauliflower until it resembles rice. In Thermomix use speed 4 for roughly 8 seconds; in a processor, just continue to check, it won't take long. If using a Thermomix, add olive oil, salt, pepper and 1/4 cup water, and cook on reverse speed 2 at 100 degrees for ten minutes. Otherwise, add rice, olive oil, water, salt and pepper to a pan and cook over a medium heat, stirring occasionally, until just cooked.
Decant rice into a bowl, add the chia seeds, stir and let it sit for five minutes (I used this time to make the mayonnaise – however the reason it looks a little more yellow in the photo is because I substituted a smooth Dijon mustard for the regular mustard powder – however just use whatever is in the pantry or fridge).
Next, prepare your assembly ingredients. I used a mandolin to slice the peeled carrot, peeled cucumber and peeled beetroot julienne – although of course you can use a board and knife. Stir the rice again.
Finally – your preparation! Stir the apple cider vinegar into the rice, just using a regular spoon. Place a piece of nori paper open on a board, and layer your ingredients on top, beginning with the cauli rice. I did: cauliflower rice, then mayonnaise, tuna, beetroot, carrot and cucumber. (I also did a couple of vegetarian ones and just substituted avocado for the tuna.) Then firmly roll up the nori paper around the ingredients, and when you have 2cm left of paper, wet it evenly with some water, continue rolling, and stick it onto itself. Depending which paper you use, this is (surprisingly) easy.
Chop to however large you would like the pieces, and serve! Delicious! Enjoy – x.
[ingredients]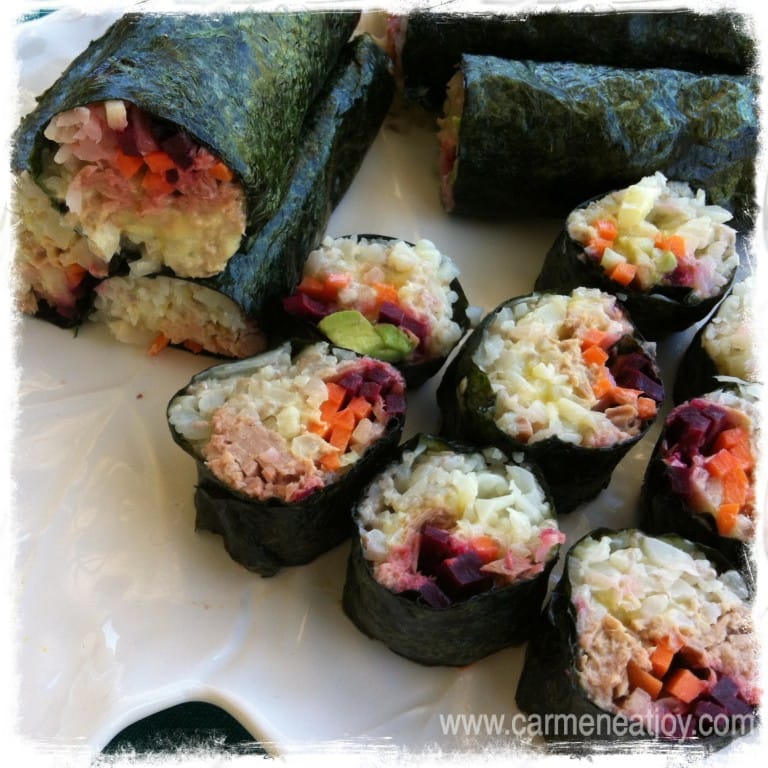 Ingredients
1/2 head cauliflower
1 carrot
1 medium beetroot
1 cucumber
3 tbsp olive oil, 1/4 cup water
1 tsp salt, 1 tsp pepper
150g cooked tuna
mayonnaise
6 tbsp white chia seeds
6 sheets nori paper