I'm definitely not a huge fan of "Tex-Mex," "Southwest," or "Mexican" fare. However, there are a few occasions when I enjoy the select and very precise flavor combination of the New Mexico Hatch green chili, the cumin-oregano amalgamation, and I'm always ~ yes, always ~ in the mood for fresh cilantro!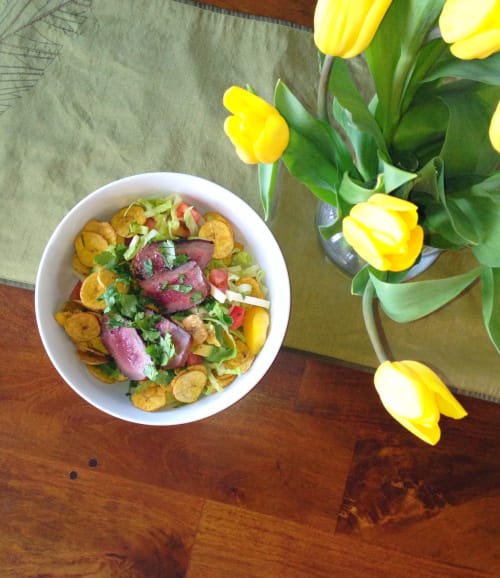 Ingredients
Marinade:
1/4 c. coconut aminos
1/4 c. apple cider vinegar
1 tsp. oregano
1 tsp. cumin seeds
1 tsp. chili powder
1/8 tsp. smoked salt
Salad:
2 8 oz. grass fed sirloin steaks
1 large romaine heart, thinly sliced
1 yellow bell pepper (or orange), roughly chopped
1 giant heirloom tomato, chopped
2 avocados, diced
1/4 c. fresh cilantro
2 c. plantain chips
Directions
Combine all marinade ingredients in a large Zip Loc bag.  Add the steaks and massage.  Refrigerate and marinate at least 24 hours, up to 36 hours.  Massage the meat every so often.  
When ready to grill, remove meat from fridge and allow to sit until room temperature.  Prepare a hot grill and sear both both sides – cook until medium rare and juicy! Once grilled, allow to "sit" before slicing.
Toss remaining salad ingredients in two large bowls.  Top with sliced beef and plenty of extra coarsely ground salt and fresh cilantro.