1. heat 1 TBS of coconut oil over medium heat and add ground beef. Cook until meat is cooked through.
2. Once meat is ready, add spice mixture to meat and mix thoroughly. Add 1/4-1/2 cup water and let simmer for 1-2 minutes until water is absorbed.
3. Next, heat up a clean skillet to medium and add coconut oil. You want to have a good amount of coconut oil because you are going to "fry" the plantains in it. Once the oil is heated, add sliced plantains to oil. You want to cut the plantains into fairly thin slices. Cook slices for about 90 seconds on each side and then remove with slotted spoon and place on paper towel to soak up extra oil. Season with cinnamon, salt or leave plain.
4. For the guacamole, I mash 1 large avocado with 1/2 small diced red onion and about juice from 1/2 of a juicy lime.
5. Next, prepare the salad! I like to make personalized taco salads so I start with two nice wide bowls. I fill the bottom of the bowl generously with greens (I like spinach.) Once you've done that, add the seasoned beef on top. Then top with a generous scoop of guacamole.
6. Sprinkle with extra red onions (diced), cherry tomatoes sliced in halves or quarters and fried plantains.
Serve with slices of lime. And feel free to squeeze extra lime juice all over the salad like I do!
[ingredients]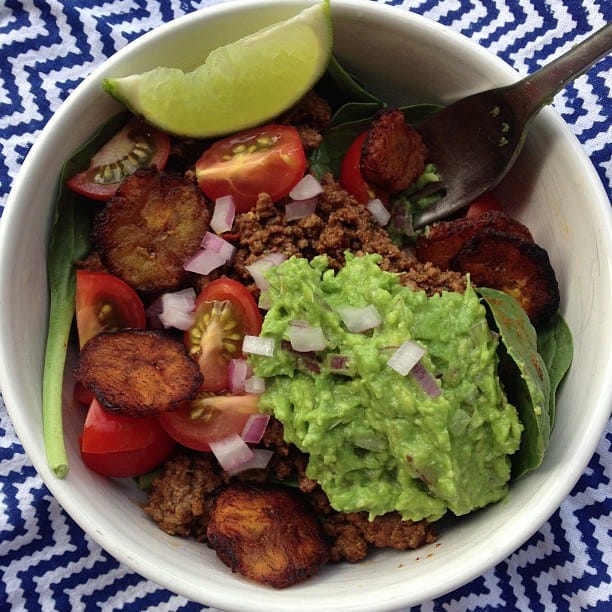 Ingredients
1 pound grassfed ground beef
1 small red onion
cherry tomatoes
spinach
romaine
sweet plantain
coconut oil
taco seasoning
avocado
lime