Delicious thin pizza crust that is grain-free, egg-free, and nut-free! If you don't use cheese on top and use a "no-mato" sauce, it's AIP!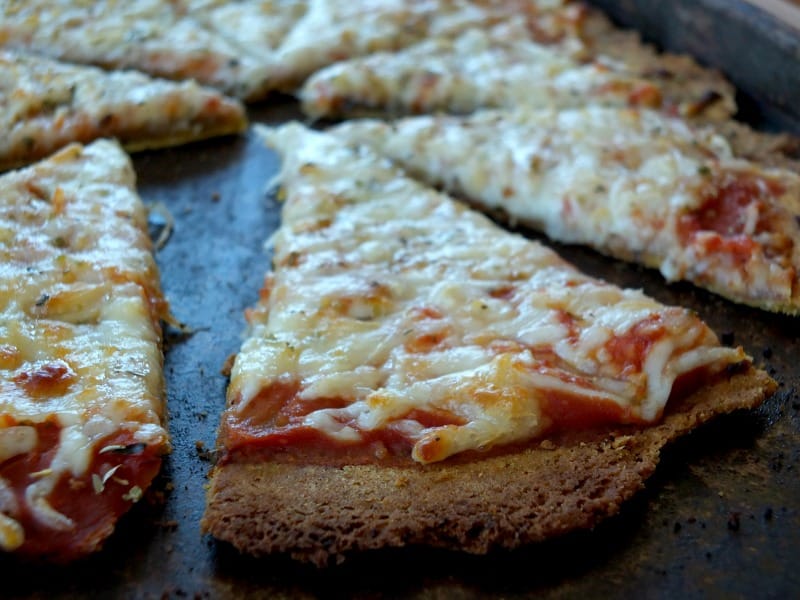 Ingredients
1/2 cup coconut cream
2 tablespoons pumpkin puree
2 tablespoons extra-virgin olive oil
1/2 tablespoon pure maple syrup
2/3 cup cassava flour
1/4 cup coconut flour
1/2 teaspoon garlic powder
1/2 teaspoon dried basil
1/2 teaspoon dried oregano
1/4 teaspoon dried rosemary
1/2 teaspoon salt
1/4 teaspoon baking soda
pizza toppings as desired
Directions
Preheat oven to 400 degrees Fahrenheit.
Grease a medium-sized cookie sheet with some coconut oil.
In a large mixing bowl, combine the coconut cream, pumpkin puree, olive oil, and maple syrup.
Stir in the flours, spices, salt, and baking soda. Dough should come together.
Press the dough into an oval 1/8" thick on the prepared baking sheet.
Bake for 15 minutes.
Use a spatula to flip the crust and top with your toppings.
Turn the oven up to 425 degrees Fahrenheit and bake for 10-15 minutes more.