Preheat your oven to 175 degrees. Line a a rectangle cake pan with baking paper.
Mix all the dry ingredients (almond meal, coconut flour, baking soda, baking powder, cinnamon and salf)
Add the remaining wet ingredients (melted coconut oil, coconut milk, eggs and honey) to the dry ingredients. Mix together.
Add crushed walnuts into mixture.
Pour into the baking pan and bake for 30 minutes or until the middle is completely cooked through.
Cool for 5 minutes in the pan and then remove to a rack to finish cooling.
[ingredients]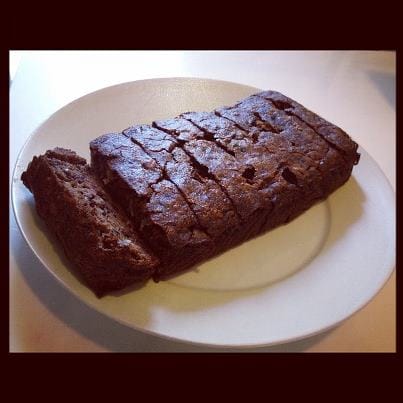 Ingredients
1/2 cup almond meal
1/3 cup coconut flour
1/2 cup coconut oil, melted
1/2 cup coconut milk
1/3 cup raw organic honey
1/2 cup brewed coffee
4 eggs, whisked
120g crushed walnuts
1 teaspoon baking soda, a pinch of salt
1 teaspoon baking powder, 1 teaspoon vanilla extract, 1/2 teaspoon cinnamon