Peach and Cardamom Breakfast Cake
Inspired by Fresh Fig and Almond Breakfast Cake by Joy the Baker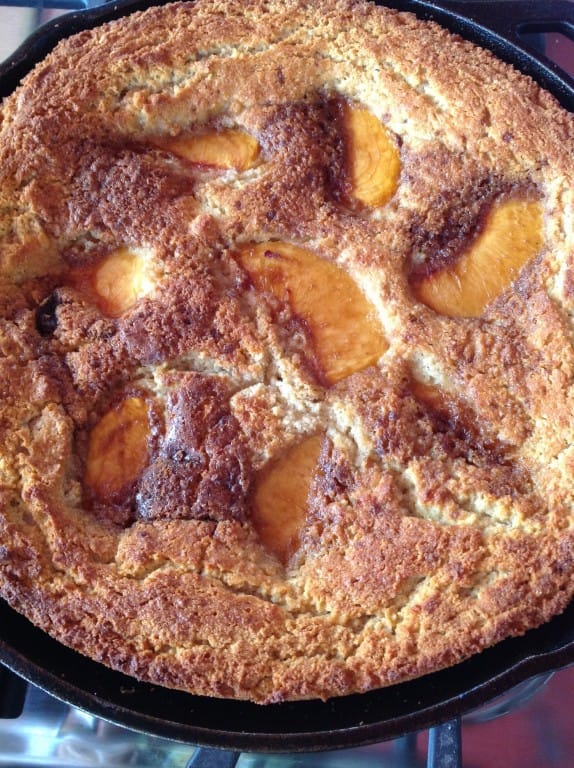 Ingredients
1 1/4 C almond milk
2 Tbsp raw apple cider vinegar
2 C almond flour
1/3 C coconut flour
2 tsp baking powder
1 tsp baking soda
1/2 tsp celtic sea salt
2 tsp cardamom
1/2 tsp ground ginger
1/3 C honey
3 eggs
1/4 C coconut oil, melted + additional for greasing the cast iron skillet
1 tsp vanilla
2 lg., fresh peaches
2 Tbsp coconut sugar (if you don't have coconut sugar you can use brown sugar)
Directions
Preheat oven to 325 degrees. Measure out almond milk and stir in the apple cider vinegar. Set aside while you assemble the rest of the ingredients.
In a medium bowl add the almond flour, coconut flour, baking powder, baking soda, salt, and spices.In another smaller bowl, whisk eggs, honey, coconut oil and vanilla together. Pour over the dry ingredients and mix. Using a handheld beater (or alternately make the dry ingredients in the bowl of your stand mixer) slowly pour in the soured almond milk and beat well. Let stand.
Using one of your fresh peaches, peel and cut into smallish chunks. Carefully fold the peach chunks into the batter. Grease a 10" cast iron skillet with coconut oil (or use a 9" cake pan, this will change the cooking time a bit so watch your cake!). Pour in your peach cake batter. Take your second fresh peach, peel and cut into 8 quarters. Place quarters around the top of the cake and gently push into the batter a bit. Sprinkle with coconut sugar. Place in the oven and bake about 55 - 60 minutes.Okay, not the quickest breakfast but perfect for a lovely weekend brunch!!