Peach Chutney Fried Chicken
For the chutney…
Heat coconut oil over medium-high heat. Add the onion and garlic, sauteeing until onions are translucent. Add the ginger and stir for about 2 minutes.
Reduce the heat to medium. Add the peaches, vingear, and curry. Stir for about 4-5 minutes, then reduce heat to medium-low, cover, and simmer for 20 minutes. After 20 minutes, add the raisins and simmer for 10 minutes more. Serve hot or cold (can be made ahead of time) on fried chicken.
For the chicken…
Preheat the oven to 350 degrees. Heat 1/2 inch of palm shortening or coconut oil over medium-high heat in a deep frying pan.
Beat the eggs in a shallow bowl. In another bowl, combine the arrowroot powder and seasonings.
Pat the chicken dry with paper towels and sprinkle with salt and pepper. Dip in beaten egg, then dredge in arrowroot powder mixture. Place in the hot oil and fry for 1 minute on each side. Remove chicken to a baking sheet. Bake at 350 degrees for 30 minutes. Then reduce heat to 325 degrees and bake for 30 minutes more.
Serve with chutney. Enjoy!
[ingredients]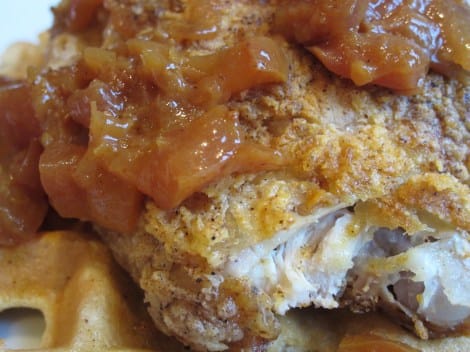 Ingredients
1 T Coconut Oil, 3 Peaches (pitted and diced)
1/2 Sweet Onion (diced), 1 Garlic Clove (minced)
1 T Fresh Grated Ginger, 1 T Apple Cider Vinegar, 1/2 t Curry Powder
1 lbs Chicken (any cut is fine)
3/4 c Arrowroot Powder, 3 Eggs
2 t Paprika, 2 t Garlic Powder
1 t Salt
1 t Black Pepper
1/4 t Cayenne Pepper
Palm shortening or Coconut Oil for frying