I don't know about you all, but cooking boneless, skinless chicken breasts have always been a headache for me.  They always come out too dry.  Every. Single. Time.  And they are basically the protein god of choice for any health conscious person.  So this has made my life a nightmare trying to get it right and eating yucky, dry chicken.  No wonder sometimes it's hard to stay on track!  In fact, I got so frustrated that I gave up on them all together in deference to Ina Garten's fabulous recipe (with my own twist) using chicken breasts on the bone with skin.
And then I came across a new method.  My life is forever changed. And now yours will be too.  In just 15 minutes, I might add.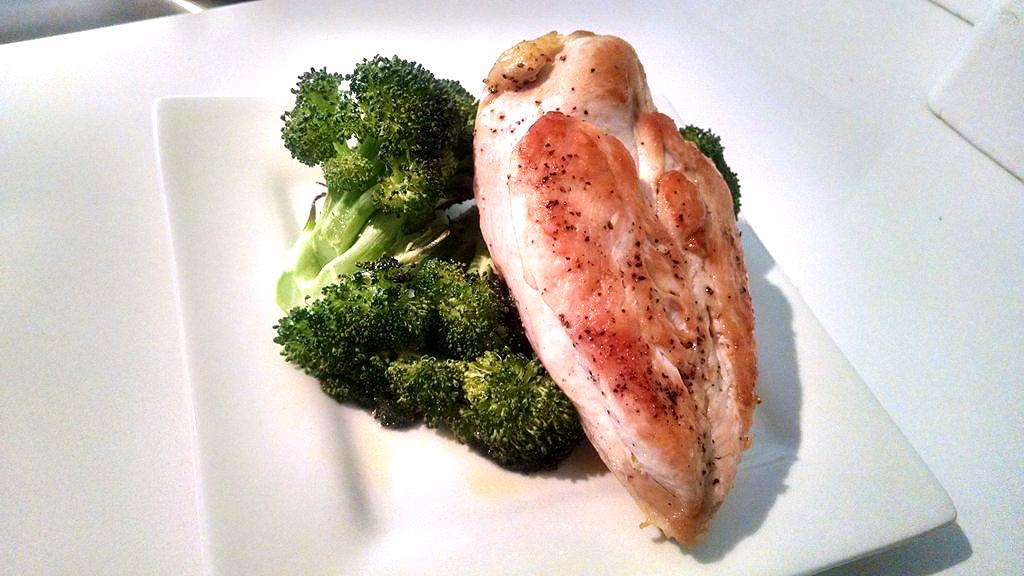 Ingredients
1 chicken breast (boneless, skinless)
1 tbsp olive oil
Salt and Pepper
Directions
Pre-heat oven to 425 degrees Farenheit
Heat a skillet or pan* over medium-high heat for 90 seconds. (Set a timer. Really. Trust me). When the pan has warmed up, add 1/2 tbsp of olive oil to it. *If using a pan with a rubber handle, wrap it in tinfoil to make it oven-safe
Salt and pepper your breast(s). Then use that handy timer and set it for 2 minutes. Place the breast in the pan and let the time run out. Set the timer again for 2 minutes, flip the breast, and let the time run out.
At this point, your oven should be preheated. Pop the whole pan into the oven and set your handy timer for 4 minutes. When the timer goes off, pull the pan from the oven and place the chicken on a plate TO REST, covered in aluminum foil. Exercise patience, people. Let those juices spread. Rest for at least 10 minutes and then your freaking, ridiculously yummy chicken is ready for consumption.
Recommended variations: Add fresh herbs to the pan just before putting the chicken into the oven like thyme, rosemary, and sage. Or add lemon wedges. Or garlic cloves. Season your chicken breast with a rub first or brush on honey, some balsamic vinegar, soy sauce... THE OPTIONS ARE LIMITLESS!