Directions:
1. Cut chicken into 1 inch cubes.
2. Combine coconut aminos, apple cider vinegar, honey, oil and garlic in a small bowl and blend well.
3. Put chicken (and veggies, if marinating) into dish and pour marinade over top of the chicken. Stir to coat. Cover and refrigerate for at least 1 hour.
4. Cut bacon strips in half so you have shorter lengths to work with.
5. Wrap chicken chunks in bacon and put skewer through both bacon and chicken so bacon is secure. Alternate with pineapple chunks and veggies, as desired.
6. Preheat grill burners over high heat (my grill has 3 burners)**. Clean off grill, turn off middle burner, and turn down front and back burners to medium or medium-high heat.
7. Place kabobs perpendicular to the grate over the middle burner (which is off). (You could use a grill basket.)
8. Cook for 10 minutes. Use tongs to turn kabobs over and cook another 10-15 minutes or until chicken juices are clear and bacon is crispy. Enjoy!!
*The amount of bacon and pineapple is not clearly defined in the ingredients because it just depends on how much you want to use. I alternated this way: chicken wrapped in bacon, pineapple, chicken, pineapple, chicken wrapped in bacon, etc., but get creative and tell me what other foods you tried with yours!
**I am NOT an expert griller by any means…you may have a much better way for cooking kabobs–go for it!
[ingredients]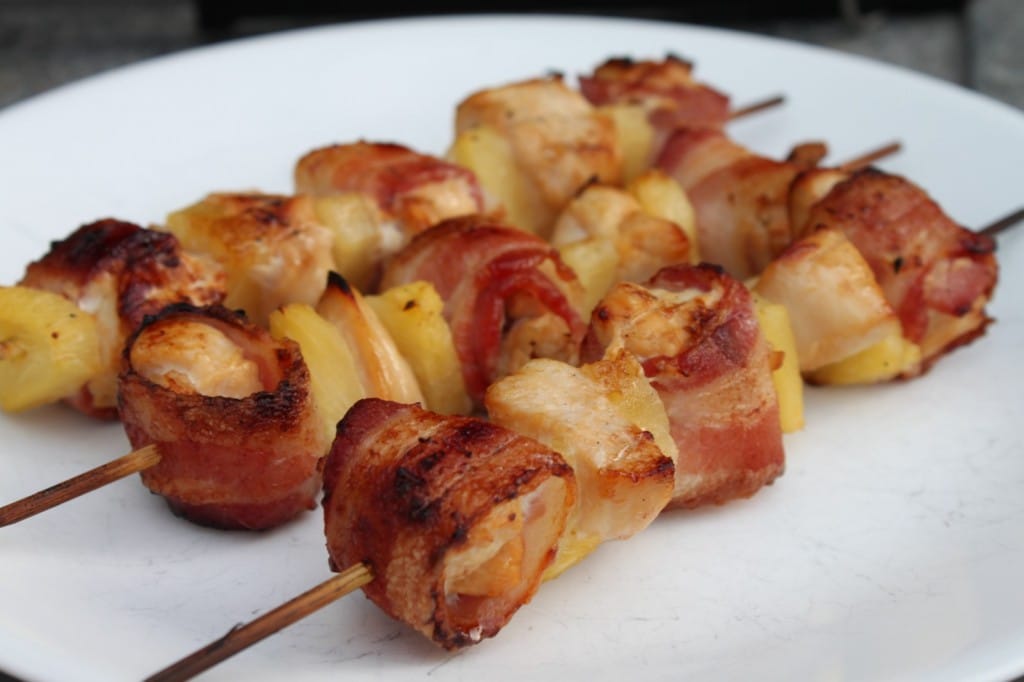 Ingredients
3-4 boneless, skinless chicken breasts
1/2-1 pound bacon*
1 can pineapple chunks
(optional) veggies*
3 Tbsp. coconut aminos
3 Tbsp. apple cider vinegar
2 Tbsp. raw honey
2 Tbsp. olive oil
1 garlic clove, crushed