Pineapple Upside-Down Pancakes
Pineapple Upside-Down Cake has always been at the top of my list — even as a girl I would request one as my birthday cake!  But sometimes I want to satisfy that craving without having an entire cake around for days.  Perfect solution?  Pancakes!
You can definitely use coconut oil for frying these up instead of butter if you want to make this non-dairy; however, I chose butter so that it resembled that classic taste we all know and love.
Enjoy!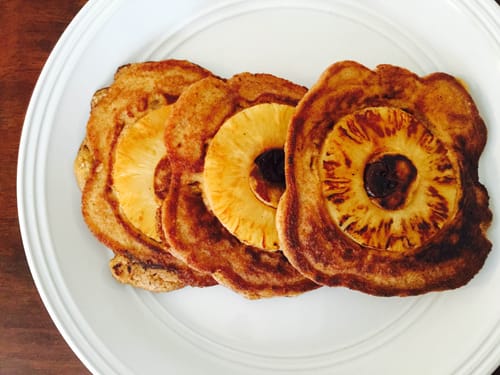 Ingredients
1/2 cup almond flour
2 tbsp. coconut flour
1/2 tsp. baking soda
1/2 tsp. ground cinnamon
pinch of salt
1/4 cup coconut milk
3 eggs
2 tsp. pure vanilla extract
1 tbsp. pineapple juice (reserved from the can)
6 pineapple rings (canned & unsweetened)
1 tbsp. coconut sugar
2 tbsp. grassfed butter (for frying)
6 frozen sweet dark cherries, thawed
Directions
Start by placing your pineapple rings on a paper towel lined plate — this will help remove a lot of excess moisture from them. Sprinkle some of the coconut sugar on one side of the rings. Set them aside.
Combine all of your dry ingredients (almond flour through salt) in a large mixing bowl.
Add all wet ingredients (coconut milk through pineapple juice) and combine well with a hand or stand mixer.
Melt some of your butter in a skillet over medium heat. If you have a large enough skillet you can fry multiple pancakes at once, just make sure that you leave enough room to flip them. If I am making a small batch I prefer to use a small skillet and fry up one at a time. You can add more butter for frying as you go.
Lay a pineapple ring sugar side down. Let it cook for about 1 minute. While it is cooking, sprinkle the opposite side with more coconut sugar. Flip the pineapple slice.
Place a cherry in the middle of the pineapple ring and then pour about 1/4 cup of pancake batter on top. Allow that side to cook for 2 minutes. You will see the edges firming up and some bubbles form over your pancake.
Carefully flip the pancake over and cook an additional 2 minutes.
Keep them warm while you continue the process.