1. Begin browning ground beef in a large soup/stock pot or Dutch oven over medium high heat. When it's halfway browned, add mushrooms, onion and bell pepper (reserve a little for garnish if desired); continue cooking until all ground beef is browned and drain if desired.
2a. Add remaining ingredients to pot, bring to a soft boil, reduce heat to low, cover and simmer for 30 minutes to one hour (depending on the time you have).
OR
2b. Add beef mixture and all remaining ingredients to slow cooker and cook on low 6-8 hours.
3. Garnish with reserved raw veggies of desired. If you do dairy, you can also garnish with cheese.
**Other mix-in ideas: green or black olives, fresh or canned tomatoes, spinach, pepperoni, Canadian bacon, jalapenos, red pepper flakes, pineapple
[ingredients]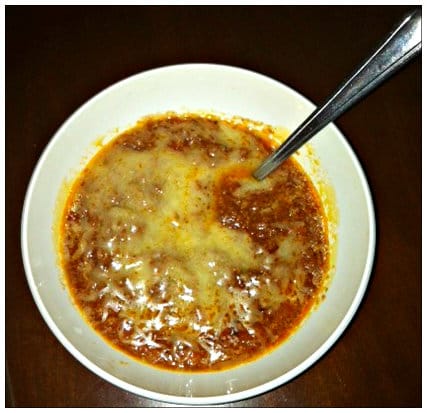 Ingredients
1 lb ground beef
1 bell pepper, chopped
1 onion, chopped
4 oz fresh mushrooms, sliced (or 1 small can)
1 clove garlic, minced
1 15 oz jar no-sugar-added pizza sauce (or 1 pint/2 cups homemade)
1 cup water or beef bone broth/stock
1/2 tsp dried oregano (1 tsp fresh)
1/2 tsp garlic powder
1/2 tsp salt