Pomegranate Thyme Marinated Flank Steak
Trim fat from flank steak, and lightly score the top of the steak in a crosshatch pattern. Combine 1/2 cup pomegranate juice, olive oil, vinegar, ginger, garlic, thyme, salt and pepper in a small bowl. Pour marinade in a large Ziplock bag with the flank steak and refrigerate for at least 6 hours.
Remove steak from bag, reserving left over marinade. Sear steak in a grill pan or skillet (or grill it outside!) on medium high heat, for about 3 to 4 minutes per side. Remove to a cutting board, and let rest for 5 minutes. Slice the steak thinly against the grain of the meat (this is important!).
Meanwhile, bring the leftover marinade and 1/2 cup of pomegranate juice to a boil in a small sauce pan and reduce by at least half, or until the sauce coats the back of a spoon (about 10 minutes). Serve the sliced steak with the pomegranate reduction on the side.
[ingredients]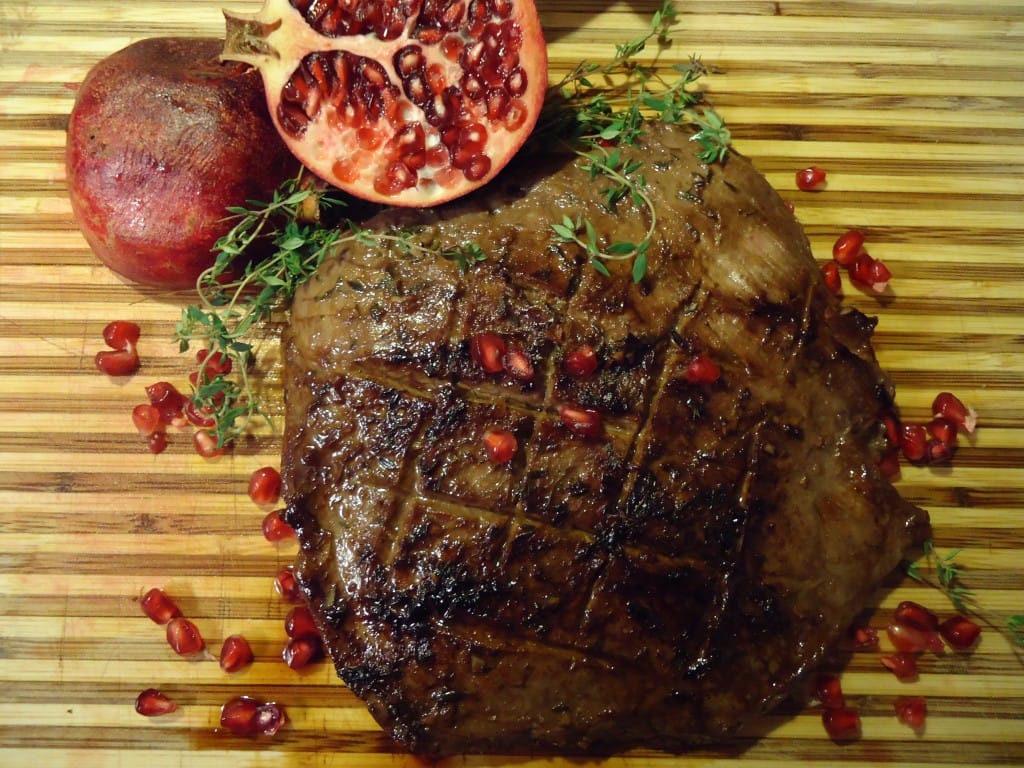 Ingredients
1 1/2 Lb Flank steak
1 Cup (divided) pomegranate juice
1/2 Cup olive oil
1 Tbs balsamic vinegar
1 Tsp freshly grated ginger
2 Cloves of garlic, minced
1 Tbs fresh thyme, chopped
1 Tsp sea salt
1/4 Tsp black pepper (just a few grinds from the pepper mill)