Pork Chops with Caramelized Fennel and Onions with Cauli Mash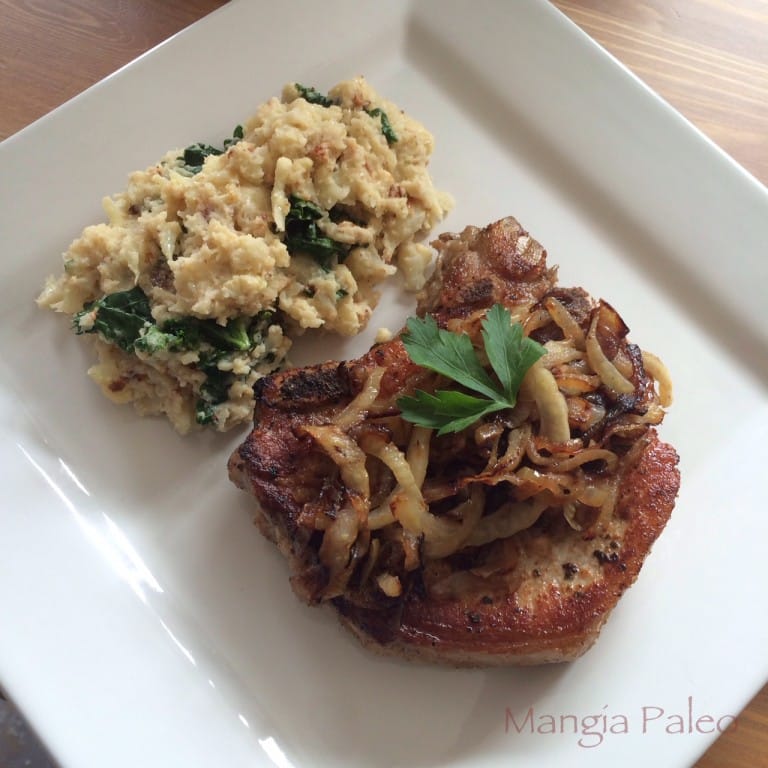 Ingredients
2 8oz. pork chops
1 small bunch kale
1 head cauliflower
2 medium yellow onions
1 large fennel bulb
2 garlic clove
3 tbsp ghee or olive oil
1/3 cup vegetable broth
Seasoning for pork: garlic, onion powder, ginger, thyme, S&P S&P to taste
Directions
Roast the cauliflower, 1 garlic clove, and 1 onion for 20 minutes in 375 degree oven. Roasting gives the flavor depth and nuttiness.
Meanwhile, julienne the fennel bulb and the other onion. I used a mandolin to achieve an even slice. Add 3 tbsp of olive oil or ghee to a wide saucepan. Add fennel and onions. Saute on medium high heat until they reduce and turn brown, stirring occasionally. About 20 minutes. If the onions start to dry out you can add a bit of water.
Then, remove cauliflower from oven and add to a stove top pot. Mash the cauliflower – I used a hand blender and pulsed just a few times. Rip off kale leaves from their stems and add kale and vegetable broth to the pot. Stir and let sit on low for the flavors to marry while you cook the pork.
Next, season pork. Cook in skillet on medium heat for 5-7 minutes each side.