Rub the roast with salt, pepper, paprika, curry, and nutmeg until well covered.
In a large pot cook the bacon until slightly crispy. Remove the bacon, but leave the grease and add more if needed. On high heat brown the roast on all sides, then remove. Now pour the hot water into the pot.
Chances are you\'ll have some of the spices stuck to the bottom of your pot. Those will come right off, as soon as you pour in the water and let it boil for a minute (feel free to replace some water with chicken stock). Season the water with salt, pepper, nutmeg, paprika, curry, and savory. Then add the roast back in, and then add all the other veggies.
Bring to a boil, cover the pot, and turn the heat down to medium low. Let it cook for about an hour before you start checking the meat for its doneness. Please be sure to strongly season this meal. I had to add a bunch of salt to make the sauce salty enough.
[ingredients]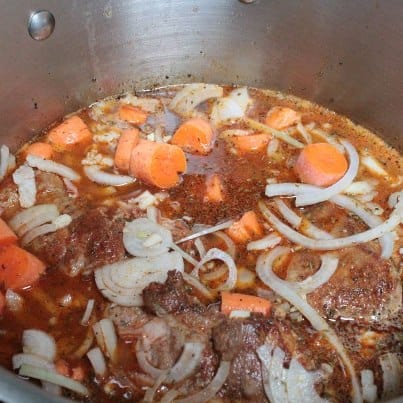 Ingredients
1 pork roast (any cut, although shoulder is tougher to cook)
salt and pepper
paprika, nutmeg, curry powder
4 strips bacon (cut into half inch strips)
1 onion (diced), 1 green bell pepper
savory
750ml hot water
2 tbsp arrowroot powder
2 cloves garlic (diced), some sliced carrots
sliced mushrooms (buttons, baby portabella)