Even though I'm generally not a big fan of going to great lengths to find "replacements" for conventional junk food, this recipe is just damn good on its own. Plus it combines two great foods into one, and it can be 100% Paleo & Primal!
I tried this "pizza crust" recipe from Mark's Daily Apple, and I was really impressed with the results: http://www.marksdailyapple.com/primal-blueprint-recipe-perfect-primal-pizza/. It comes out a little firm, but not crispy. It has a nice, light texture, and a surprisingly neutral taste. The addition of spices is the perfect compliment. You have to be a little careful, but you can eat a piece just using your hands. Note: you will definitely want to use parchment paper when baking this!
When making more traditional pizzas, I mix italian seasonings into the dough. When making mexican pizza, I mix mexican seasonings into the dough. You can get as creative with this as you like!
While you\'re preparing the crust according to the directions available through the link, start preparing your toppings. You can top this with ANYTHING you like! A few suggestions to get you started:
1) Ricotta with fresh tomatoes & basil. Garnish with an olive oil drizzle over the finished pizza.
2) Classic: tomato sauce with shredded mozzarella and pepperoni
3) Mexican: Mix mexican spices into ground beef and cook until browned. Spoon chunky salsa onto finished pizza crust. Add a layer of ground beef and cheese. Garnish with guacamole, cheese, sour cream, and/or fresh cilantro.
4) Meat lovers: tomato sauce with all of your favorite meats. I like to use ground beef, bacon, sausage, pepperoni, and ham with onions (all pre-cooked).
5) Strict Paleo: tomato paste, ground beef, sauteed onions & peppers, and fresh herbs.
Once your pizza is topped, place it back under the broiler for 5 – 10 minutes to heat the toppings through, then garnish and serve!
[ingredients]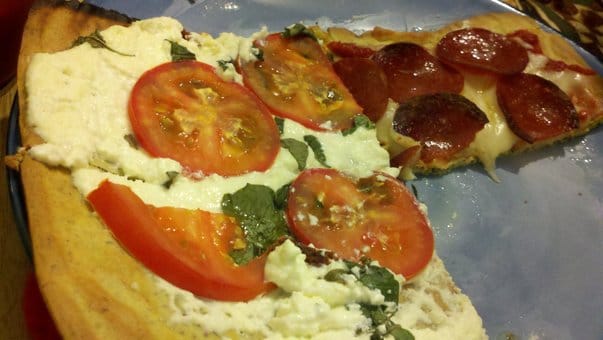 Ingredients
4 eggs
1/3 cup Coconut Flour
1/3 cup Flax Seed Meal
1/2 cup Coconut Milk (or full fat milk)
seasonings of your choice
Toppings such as:
Ricotta cheese or shredded mozzarella
Fresh tomatoes or sauteed onions & peppers
Sausage, bacon, or pepperoni