Prosciutto & Asparagus Pizza
For Pizza Crust:
– Preheat oven to 375.
– Mix dry ingredients together in a large bowl.
– Whisk wet ingredients (eggs, oil, and milk) together and then add to dry ingredients.
– Mix until well blended.
– Grease pizza pan lightly with some coconut oil and spread dough out. Bake w/o any toppings for 15-20 minutes.
Now for the Toppings
– Mix minced garlic and 2 tbsp. of olive oil in a small bowl.
– After trimming the asparagus toss spears with the additional tbsp. of oil and sprinkle with salt and pepper to your liking.
– Once crust is out of oven, brush your garlic/oil mixture over crust.
– Turn oven heat up to 425 degrees.
– Top crust with spears, fanning them out as you go.
– Sprinkle top with prosciutto and cheese if you desire.
– Bake entire pizza for another 20 minutes.
– Slice and serve!
–
[ingredients]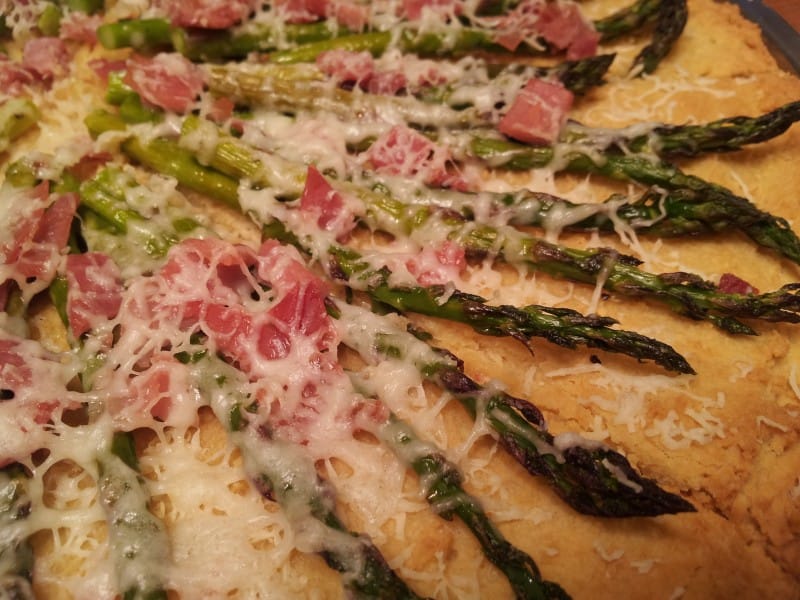 Ingredients
1/2 c. coconut flour, 1 c. almond meal, 1 tsp. baking powder, 2 tsp. garlic powder, 4 eggs, 3 tbsp. extra-virgin olive oil, 1/2 c. coconut milk
1 bunch asparagus
4 slices prosciutto
3 tbsp. extra-virgin olive oil, 3 garlic cloves, minced
salt & pepper to taste
raw goat cheese, optional