Prosciutto, Potato and Spinach Frittata
Frittatas are so versatile and easy to make. Use whatever meats or veggies you have on hand and get creative! The combination of potatoes, spinach and crispy prosciutto is delicious!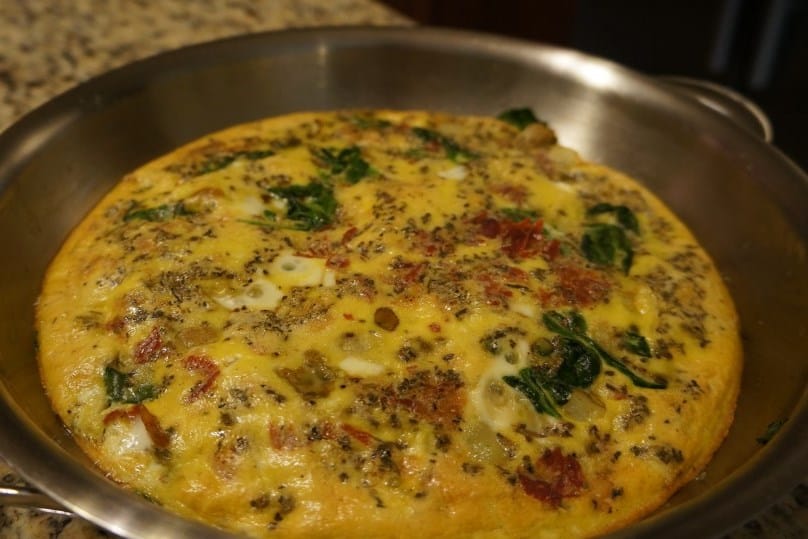 Ingredients
8-10 eggs
5 pieces prosciutto (chopped and crisped ahead of time in oven or on stove)
2 medium white or sweet potatoes (chopped)
A few handfuls of spinach (chopped)
Olive oil
Salt and pepper
Oregano, basil and garlic powder
Directions
If roasting the potatoes ahead of time, preheat the oven to 400 degrees F. Place chopped potatoes on a large baking sheet. Drizzle with olive oil, salt and pepper. Roast for about 25 minutes until softened, stirring once halfway through.
Add eggs and chopped cooked prosciutto to a large bowl and season with salt, pepper, oregano, basil and garlic powder to taste. Whisk well.
Once potatoes are done cooking, lower oven heat to 375 degrees F. Heat a medium-sized stainless steel or cast iron skillet over medium heat. Add olive oil. If you are cooking the potatoes in the skillet instead of the oven, add them now and cook until soft about 10 minutes.
Add in spinach and cook until wilted about 5 minutes. If potatoes were roasted, add them to the spinach now and combine well. Whisk the eggs one more time and pour them into the skillet on top of the potatoes and spinach.
Let the eggs sit for about 5 minutes until the edges start to cook. Place the whole skillet into the oven and cook for about 15-20 minutes until the center is completely set. Let cool before slicing and enjoy!