Simple and delicious.This is how I make my pulled pork.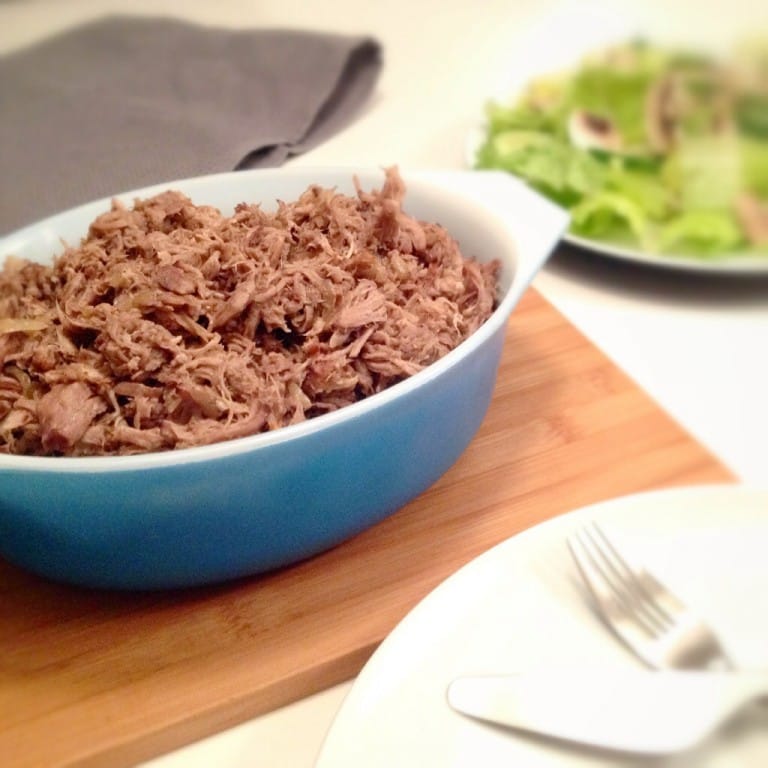 Ingredients
3.5 - 4.5lb (1.5 - 2 kg) pork shoulder (boneless)
2 onions (thinly sliced)
5 cloves garlic (minced)
1 cup (2.5 dl) chicken broth
0.75 tablespoon salt
1 teaspoon ground cumin
1 teaspoon chipotle powder
2 teaspoons cocoa powder
0.5 teaspoon ground cinnamon
Directions
Cover the bottom of your slow cooker with the sliced onions.
Pour over the chicken broth.
Mix all spices in a small bowl, using a fork.
Rub the pork shoulder with the minced garlic.
Then rub the pork shoulder with the spice mix.
Place the pork shoulder on top of the onions in the slow cooker, and cook on low heat for 8-10 hours.
Carefully lift remove the pork shoulder from the slow cooker.
Put a strainer on top of a heat proof bowl, and pour the sliced onions and liquids through it.
Put the onions back into the slow cooker (or a serving bowl).
Add the pork shoulder, the thoroughly shred (pull) the pork apart using two forks.
Mix the onions and the pulled pork evenly, and add the juices until it's moist (but not wet).
Serve on a bed of fresh, roughly cut, salad and vegetables.